China claims balloon seen over US airspace is 'civilian airship' used for research
United State officials said that a Chinese spy balloon had been flying over the US for a few days, a brazen act just days before US Secretary of State Antony Blicken's planned trip to Beijing.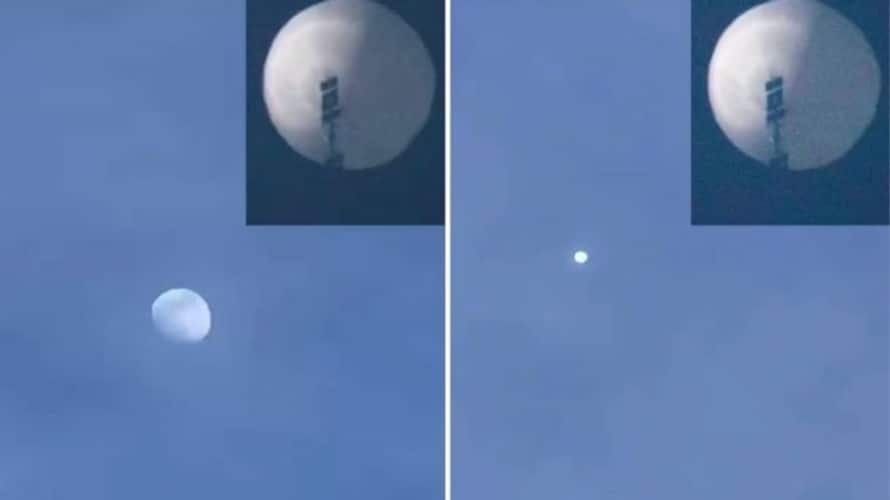 A suspected Chinese spy balloon was spotted over United States airspace, said the Pentagon, a development likely to further strain tense bilateral ties ahead of Secretary of State Antony Blinken's important visit to Beijing.
The US government has been tracking the balloon for several days as it flew over sensitive installations in the northern United States, said the Pentagon spokesman Brig Gen Patrick Ryder. 
On Thursday, he said the balloon was 'travelling at an altitude well above commercial air traffic and posed no military or a physical threat to people on the ground.'
"NORAD (North American Aerospace Defense Command) continues to track and monitor it closely," he said, adding that the balloon, which is 'said to be the size of three buses,' was spotted over Montana on Thursday.
Malmstrom Air Force Base in Montana, a sparsely populated state, is home to one of only three nuclear missile silo fields in the United States.
According to Ryder, the US government immediately intervened to stop the collection of sensitive data after the balloon was discovered. 
In response to the Pentagon's claims, a Chinese Foreign Ministry spokesperson confirmed the ballon was a Chinese 'civilian airship' that had deviated from its planned route. 
In its statement, the Chinese Foreign Ministry said, "The airship is Chinese. It's a civilian airship used for research, primarily meteorological research." 
"The airship deviated from its planned course due to the Westerlies and its limited self-steering capability. The Chinese side regrets the airship's unintentional entry into US airspace due to force majeure," the statement read.
On Friday, Mao Ning, a spokesperson for China's foreign ministry, said that China was verifying the Pentagon's report on the balloon. She urged people to remain calm 'until the facts are clear.'
"China is a law-abiding nation that consistently abides by international law. We have no intention of invading any sovereign country's territory or airspace," she said. 
According to Pentagon spokesman Ryder, the balloon travels at a height well above commercial air traffic and poses no military or a physical threat to people on the ground.
US President Joe Biden was briefed on the incident, and the Pentagon is considering various options, said the senior defence official. 
According to officials, Chairman of the Joint Chiefs of Staff Gen Mark Milley and US Northern Command Gen Glen VanHerck have advised against 'taking kinetic action' due to the potential risk to the safety and security of people on the ground from a debris field.
"We currently believe that this balloon has limited additive value in terms of intelligence collection. Nonetheless, we are taking steps to protect against foreign intelligence gathering sensitive information," said the defence official.
The Chinese embassy in Washington and the US diplomatic mission in China have engaged with the Chinese government.
The presence of the balloon in the US comes at a sensitive time, with Secretary of State Blinken expected to travel to Beijing next week, a key trip meant to follow up on President Joe Biden's meeting with Chinese President Xi Jinping in November last year in Bali, Indonesia.
Biden has called China 'America's most consequential geopolitical challenge,' and rivalry between the two major powers is heating up.
Bilateral tensions have risen over Taiwan's self-government, China's human rights record, and China's military activities in the South China Sea, among other issues.
Balloons are an ancient form of surveillance technology. Unmanned balloons are less expensive to operate than other types of air surveillance devices.
According to CNN, the US believes Chinese spy satellites in low Earth orbit can provide comparable or better intelligence, limiting the value of whatever Beijing can glean from the high-altitude balloon.
(With inputs from PTI)
Also read: China looking into report of spy balloon over the United States; urges calm
Also read: 'Too risky to shoot down...' US after Chinese 'spy' balloon spotted over nuclear launch site
Also read: US biggest military threat to India after China, new survey reveals
Last Updated Feb 3, 2023, 9:16 PM IST