'We are not looking to provoke...' Canada PM Trudeau in line of fire after targeting India over Nijjar killing
Despite persistent questioning, Trudeau remains vague about the evidence while emphasizing the importance of the international rule of law. Meanwhile, India accuses Canada of harbouring extremist fugitives, straining their relationship.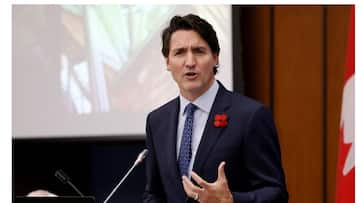 Canadian Prime Minister Justin Trudeau has scaled back his stance on the contentious crisis with India regarding the murder of Khalistani extremist Hardeep Singh Nijjar in British Columbia in June. This retreat comes after mounting pressure due to the absence of concrete evidence and international backing for his allegations implicating New Delhi in the assassination.
At a media briefing on Thursday, Trudeau faced persistent questioning about the veracity and quality of the evidence supporting his claim that India was responsible for the murder. Rather than directly addressing the evidence, he continued to assert that there were "credible reasons to believe that agents of the Government of India were involved."
Despite India's contention that Canada had failed to furnish any evidence, Trudeau called upon New Delhi to "engage with us to move forward on getting to the truth of this matter" after initially publicizing these "credible allegations."
Trudeau also sidestepped inquiries regarding the lack of international support for his unsubstantiated accusations, emphasizing Canada's commitment to the rule of law and an international rules-based order, which he claimed to uphold in conjunction with its allies.
New Delhi, sharing similar values, accused Canada of providing shelter to extremist fugitives from India, some of whom have previously committed acts of terrorism, such as the bombing of an Air India plane resulting in the deaths of 329 individuals, most of whom were Canadian citizens. These fugitives have also targeted moderate Sikhs opposed to the Khalistan movement, as well as other Indians, diplomats, and officials, and have promoted and perpetrated violence within Canadian society.
This longstanding issue has strained relations between the two nations for nearly four decades. When questioned about whether the Nijjar murder case, assuming evidence implicating New Delhi is produced, would take a backseat to the "harsh reality of international geopolitics" considering India's increasing importance, Trudeau responded, "There is no question that India is a country of growing importance, and a country that we need to continue to work with, not just in the region but around the world. And we're not looking to provoke or cause problems."
He added, "But we are unequivocal about the importance of the rule of law and protecting Canadians while standing up for our values. That's why we call upon the government of India to collaborate with us in establishing processes to uncover the truth of the matter and ensure justice and accountability prevail."
Last Updated Sep 22, 2023, 8:43 AM IST