'Best in the world': UK vlogger praises Mumbai Police after he recovers lost iPhone; netizens react (WATCH)
A British YouTuber, currently in India, found his lost mobile phone with the help of the police in Mumbai within a few hours. The YouTuber named Phil Bland captured the entire episode and uploaded on his channel.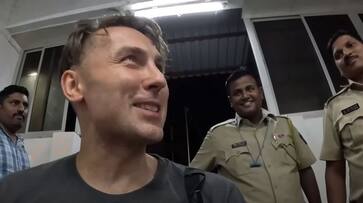 A British YouTuber who is currently in India is experiencing a range of popular festivals, from Ganesh Chaturthi to the India-Pakistan match and Navratri. His YouTube and Instagram accounts are flooded with videos that highlight his amazing stay in the nation. But in the middle of the celebrations, he experienced a pretty scary but ultimately unforgettable episode during his stay in Mumbai, which turned out well in the end owing to the support of the local police.
This YouTuber, known as Phil Bland, was exploring the bustling city when he realised he had misplaced his iPhone during the Ganeshotsav. He captured the terrifying ordeal on record with his GoPro, starting from the time he got into an autorickshaw and thought his phone had vanished to the time the Mumbai Police helped him get it back.
Bland posted his vlog on his YouTube page, @philbland, expressing his gratitude to the police service. He can be seen on the vlog hailing an auto-rickshaw and asking the driver to take him to Juhu Beach with his leftover cash. When he got to the shore, he realised his iPhone 14 was missing from his pocket there. He made the quick decision to call the police and report the situation, and they immediately volunteered to help.
They even took him back to the spot where he had boarded the auto-rickshaw. But as word of the missing gadget spread, Bland was notified by the police that someone had handed in his phone at a police station, much to the surprise of both him and the internet community that followed his adventure. After about two hours, they led him to the appropriate police station, where he was happily reunited with his iPhone.
Phil showed his appreciation for the commitment and moral character of Mumbai's police force and its citizens by posing for photos with the officers, referring to them as "the best in the world." He was so happy that he went to the pandal of the police station and asked Ganpati Bappa for blessings.
One user commented, "I can assure you, that this would only happen in India. Salute to the Mumbai Police , the kind and friendly folks of Mumbai, and for Phil for believing." Another praised, "Mumbai police has always been in the record of positive sides." "Proud of you Mumbai Police," commented another user.
Last Updated Oct 19, 2023, 2:22 PM IST