'Beginning of the war is an intelligence error...' Israeli military intel chief owns up failure
Major General Aharon Haliva, the Military Intelligence Chief of the Israeli Defense Forces (IDF), publicly acknowledged that the failure to prevent Hamas attacks on Israel can be attributed to an intelligence lapse.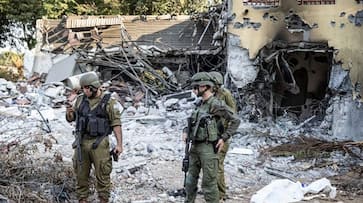 Israeli Defence Forces Military Intelligence Chief Major General Aharon Haliva on Tuesday said that the failure to thwart Hamas's attack on Israel had its beginnings in an intelligence failure.
IDF Intelligence Chief said, "In all my visits to the Amman units in the last eleven days, I have emphasized that the beginning of the war is an intelligence failure. The IDF under its command failed to warn of the terrorist attack carried out by Hamas. We failed in our most important mission, and as the head of the IDF, I bear full responsibility for the failure. What is required to be investigated, we will investigate in the most profound and poignant way and draw conclusions. But now, before our eyes, there is only one task -- to fight back and win it!"
It's worth noting that the director of Israel's Shin Bet domestic intelligence agency also assumed responsibility for failing to prevent Hamas from carrying out their deadly attack. In a statement, Shin Bet director Ronen Bar admitted, "Despite our extensive efforts, unfortunately, on Saturday, we were unable to generate sufficient warnings to thwart the attack."
Bar, as the organization's leader, took personal responsibility, emphasizing, "The responsibility for this falls on me. There will be time for investigations. Right now, we focus on the fight."
The attack, initiated by Hamas on October 7, resulted in a tragic toll, with at least 1,400 casualties and 3,400 injuries in Israel. In response, Gaza witnessed over 2,750 fatalities and 9,700 injuries due to retaliatory strikes from Israel, as reported by the Palestinian Ministry of Health.
Tensions escalated with the looming possibility of a ground war, prompting evacuation orders for Gaza. The Israel Defense Forces urged "all residents of Gaza City to evacuate their homes" and relocate south for their safety, with the aim of conducting significant operations in Gaza City while minimizing harm to civilians.
The breach of the heavily fortified border between Israel and the Gaza Strip by dozens of armed Hamas gunmen, accompanied by thousands of rockets fired from Gaza into Israel, left many experts puzzled. Despite Israel boasting one of the most extensive and well-funded intelligence services in the Middle East, Hamas managed to mount a coordinated, complex attack that involved the stockpiling and firing of thousands of rockets, all seemingly under the radar of Israeli authorities.
The manner in which Hamas militants penetrated Israeli defenses, creating openings in the barriers and infiltrating by sea and paraglider, raised numerous questions. Furthermore, the level of operational security maintained by Hamas to prepare and execute such an attack, right under the nose of Israeli intelligence, was nothing short of extraordinary.
Last Updated Oct 17, 2023, 7:42 PM IST