Zookeeper Gets Bitten by Giant Python on the Face; Watch Horrifying Moment Caught On Camera
A terrifying moment of a python biting a zookeeper right on the face has emerged on social media.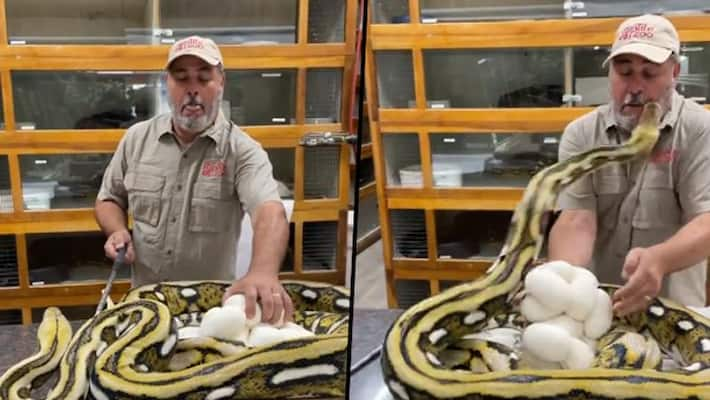 A video of a zookeeper getting bitten by a python on the face has gone viral on digital media. 
The incident occurred in California's Reptile zoo when zookeeper Jay Brewer attempted to get black and yellow striped python eggs. Brewer himself posted this video on Instagram, with the caption, "She GOT ME 🤦‍♂️ I take a risk so I can get the babies 🥚 in the incubator where it's safe… in this case, I had to take one for the team."  
The video shows Brewer retrieving the eggs of a python that was lying coiled up around the collection of eggs. Diverting attention to the python,
Jay carefully lifts the eggs. Some of the eggs were stuck together in a clump. Brewer put down his stick to release his other hand to pick up the eggs. It looks like the snake was not happy about what Brewer was doing and decided to preserve her babies by attacking him.
As soon as he lifted the eggs with his hands, the vast python attacked Brewer and bit him right on his face. Watch the video.
Last Updated Jun 25, 2021, 11:37 AM IST