Man suffers heart attack while shopping at IKEA Bengaluru; Here's what happens next
A doctor saved the life of a customer who suffered a heart attack at an IKEA store in Bengaluru. The doctor's son shared a video of the whole incident on Twitter.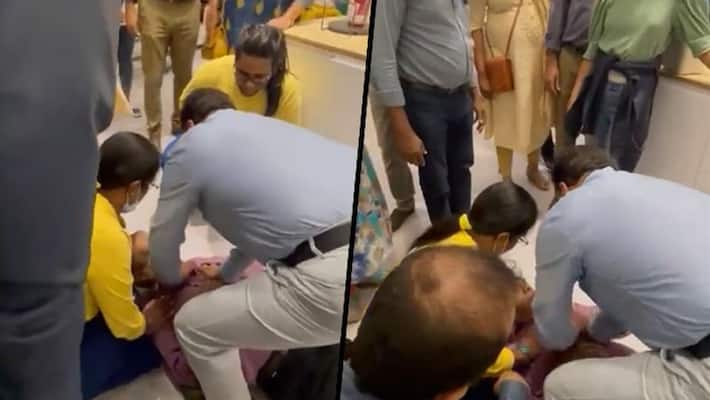 A shocking video shows a doctor saving a man's life who suffered a heart attack while shopping at a store in Bengaluru. This incident occurred in an IKEA store in the city, where a customer collapsed in the middle of the store, lying unconscious on the ground after complaining about chest pain.
Also Read: Watch: Angry cobra charges at man after he tries to shoot it; spine-chilling video goes viral
According to sources, the man had no pulse. Luckily, a doctor in the store and shopping in the next lane came forward to save the man's life. With cardiopulmonary resuscitation or CPR, the doctor rescued the man's life. With cardiopulmonary resuscitation or CPR, the doctor rescued the man and helped him to recover. Twitter user and doctor's son Rohit Dak posted the video on his account. Since the footage surfaced online, social media users have applauded the doctor for being the saviour.
Sharing the video on Twitter, Rohit, who was also present at the spot, mentioned the details of the incident and how his dad worked on the patient for more than 10 mins and revived him. He also expressed his respect for the doctors.
The one-and-a-half-minute video starts with the man lying on the floor, surrounded by IKEA staff and other customers, while the doctor accomplishes CPR to rescue the man's life. It is said that the process lasted for several minutes, and in the video, we can see the man regaining consciousness and moving his hand, showing that he is alright.
After being posted online, the video accumulated over 479K views and 33K likes. Netizens congratulated the doctor for his efforts and posted their opinions in the comments section. A user wrote, "Exactly. The patient survived. Respect to the doctor. However, right CPR is mandatory training not only for doctors but also for the general public."
Another person commented, "Heartfelt thanks to your dad. It looks like the person had a cardiac arrest. If he had had a heart attack, he would've had a pulse. So important for anyone to learn CPR! At least this incidence & video highlight it's a necessity. Request everyone here to spend.." Watch the video.
Also Read: Watch: Helicopter pilot loses control after takeoff, here's what happens next
Last Updated Jan 2, 2023, 7:44 PM IST