Guinness reveals why it deactivated 'Longest Kiss' World Record in 2013
Guinness World Records (GWR) has revealed that it deactivated the longest kiss world record in 2013 as the competition "had become too dangerous".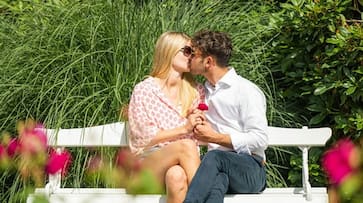 Guinness World Records once had a category for the "longest kiss," but it was deactivated in 2013 due to safety concerns and conflicts with updated policies. In a release posted on its website, GWR said that parts of the contest's regulations were in violation with its most recent and updated policies. Additionally, it listed the rules and described the difficulties that participants would encounter in following them while attempting to beat the record.
Also read: Jatayu Earth's Centre: Kerala's Guinness World Record-Winning giant statue and adventure Hub- A must visit!
Rules For Guinness World Record for the longest kiss were as follows:
- As mentioned by the Guinness World Record the "kiss must be continuous and the lips must be touching at all times." The couple will be disqualified if the lips part. Contestants are allowed to consume liquids via a straw during the attempt, but the lips must not part.
- It is important for the couple to be awake at all times.
- They must stand during the attempt and cannot be propped together by any aids.
- No rest breaks are allowed.
- Adult nappies/diapers or incontinence pads cannot be worn. Couples were allowed to use the toilet, however, they have to remain kissing while doing so. 
Also read: WATCH: French firefighter's daring run while engulfed in flames smashes Guinness World Records
As the record to beat grew longer, contestants faced dangers associated with sleep deprivation, including psychosis, leading to the decision to deactivate the category. Several instances demonstrated the ill effects of the endurance required:
- In 1999, Israeli couple Karmit Tzubera and Dror Orpaz kissed for 30 hours 45 minutes but ended up in the hospital due to fatigue, despite winning the contest. Karmit and Dror won a trip around the world and $2,500 (Rs. 2,06,775) in cash.
- During the 2004 contest, one contestant had to be resuscitated with oxygen. 37-year-old Andrea Sarti (Italy) kissed his girlfriend, Anna Chen (Thailand) for 31 hours 18 minutes.
- In 2011, a woman passed out after only 30 minutes in the competition.
Also read: PM Modi's Yoga event at UN creates Guinness World Record; 135 nationalities take part | WATCH
Ekkachai and Laksana Tiranarat, a Thai couple, broke the record for the longest kiss in 2013. They shared a 58 hours, 35 minute long kiss. The couple, who previously held the record, received the top award of 100,000 Thai Baht (about 23,465 Indian rupees) as well as two diamond rings for an additional 100,000 Baht (roughly 2,34,650 rupees). 
Following the deactivation of the longest kiss category, Guinness World Records introduced the longest kissing marathon as its replacement.
Last Updated Jul 7, 2023, 2:53 PM IST