Watch: Groom surprises his bride with this unique gift; viral video stunned netizens
A video of a talented Indian groom painting his bride's picture on a canvas in an original upside-down portrait and flipping it over to reveal the artwork has emerged on social media.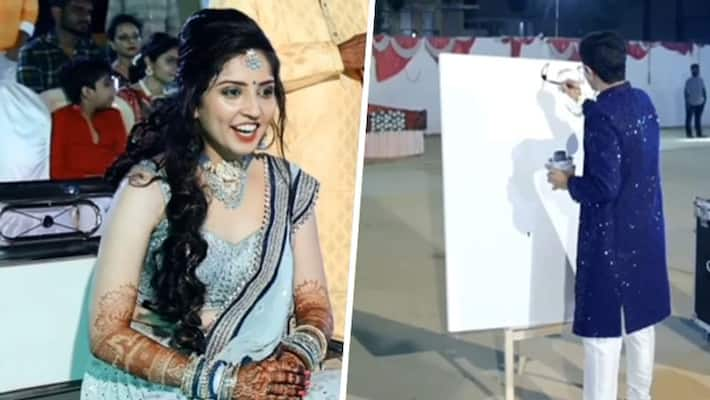 We all know that, during the wedding, the couple surprise each other with incredible performances and gifts that become the highlight of the function. Wedding gift culture is famous worldwide and has recently become more dominant. There have been numerous online videos where grooms surprise their brides with memorable presents. However, a video of an Indian groom utilising his artistic talents to surprise the bride has surfaced online. We are confident that the clip will make your day.
An Instagram user named Varun Jarsania posted this video mentioning his love towards his bride and now wife.
Also Read: Watch: Angry cobra charges at man after he tries to shoot it; spine-chilling video goes viral
The video starts with the desi groom trying to make something unique for his bride. The artist used his talent and completed a live canvas artwork for his bride during their wedding.
According to his Instagram Bio, the artist, Varun Jarsania, went over and above to produce a gorgeous wedding present for his bride. The groom starts his painting by drawing a heart on the canvas using black paint. He then completed the whole picture in front of the wedding guests who were part of their marriage function. Varun uniquely painted his bride on the canvas in an initial upside-down image, which was turned over towards the end to show the actual painting.
The artiste also danced and lip-synced to the lyrics of 'Girls Like You' by Maroon 5 that was playing in the background. The video also shows the wholesome reactions of the bride, who was mesmerised by her spouse's art.
After being shared online, the video received over 231K likes and 563 comments on the photo-sharing platform. The video surprised social media users as no one could not think of such an extraordinary gift. A user wrote, "Now no one can match this.. this is soo beautiful.." Another person commented, "He has raised the bar so high! Amazing." Watch the video.
Also Read: Watch: Helicopter pilot loses control after takeoff, here's what happens next
Last Updated Jan 4, 2023, 7:57 PM IST