Watch: Angry cobra charges at man after he tries to shoot it; spine-chilling video goes viral
A shocking video of a man firing a gun at a cobra and provoking the serpent to attack has emerged on social media.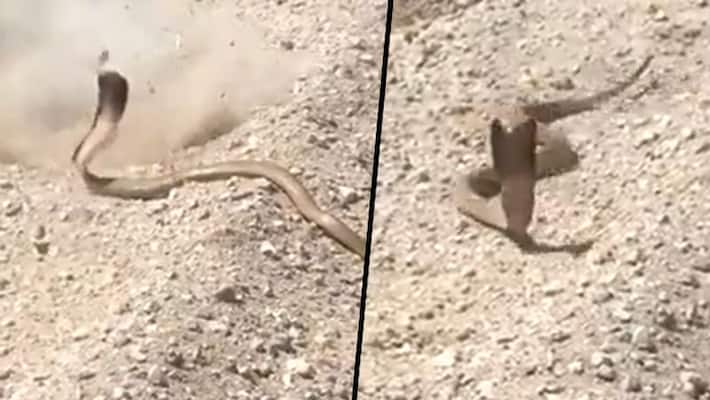 We all know cobras are dangerous reptiles around the globe. However, usually, these snakes never harm anyone unless provoked. You must be wondering why we are all suddenly speaking about this. A shocking video of a cobra charging towards a man in anger after he shoots a couple of bullets from point-blank range has surfaced online. 
A Twitter user named Instant Karma shared this video on the micro-blogging site with the caption, "Don't bring a gun to a cobra fight." The viral video undoubtedly sends a chill down your spine.
Also Read: Watch: Helicopter pilot loses control after takeoff, here's what happens next
The 10-minute-long video starts with a man pointing a gun at the cobra and shooting it on the ground. However, he misses the aim, and the serpent holds its head upright, and its hood spreads wide. The man attempts to shoot for the second time but fails. However, it looks like his deeds angered the reptile. Immediately next, the enraged snake can be seen charging at the man to take vengeance.  
After being shared online, the video went crazy viral and collected over 210K views and 564 retweets.
Social media users slammed the man for irritating and provoking the reptile and behaving irresponsibly. A few netizens were surprised to witness the cobra charging at the man. A user wrote, "You shouldn't have a gun if your aim is that lousy from point blank." Another person commented, "He gonna dye you after watching this video has a new meaning." 
King cobras are the most deadly snakes. The reptile bite instantly affects a person's nervous system, and he won't survive for more than 15 minutes. Even a tiny amount of toxin is enough to paralyse a healthy human being. Watch the video.
Also Read: Unique shelter for stray dogs amid biting cold is winning hearts online
Last Updated Jan 1, 2023, 6:04 PM IST