X introduces ChatGPT rival Grok, says 'it can answer spicy questions rejected by other AI'
X's (formerly Twitter) artificial intelligence division, xAI, has launched its own generative AI chatbot called Grok, based on Grok-1. Here is everything you need to know.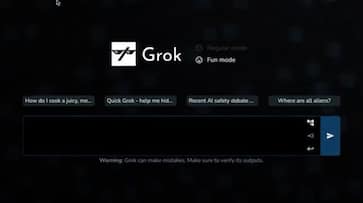 A notable year for generative AI has been 2023. Not only have we witnessed the maturation of platforms like ChatGPT by OpenAI, Google Bard, and Meta Llama 2, but generative AI has also made its way into mainstream goods, like the Google Pixel 8 series.
Recently, Grok, an AI chatbot developed by X's (formerly Twitter) artificial intelligence section, was introduced. Grok is built on Grok-1, a proprietary language model that X has been working on for the past four months. When compared to the most well-known chatbots, like Google Bard and ChatGPT, Grok has a few unique characteristics.
Announcing the same, X said, "Grok is based on 'Hitchhiker's Guide to the Galaxy,' intended to answer almost anything and, more challenging, even suggest what questions to ask!"
Also Read | Vivo X100 Pro full specifications, colours, price leaked ahead of November 13 launch
One notable distinction is that Grok responds to customer inquiries with humour and wit, exhibiting a "rebellious streak," according to X. Additionally, it is said that Grok will answer "spicy questions" that other models often steer clear of. Although X's definition of "spicy" isn't quite clear, it may be seen as an attempt to address more contentious issues than models like Google PaLM or GPT-4.
Additionally, Grok may use X (Twitter) to get real-time information on the network and react appropriately. The chatbot is not yet a finished product, though; it is now in the early beta phase.
"We want Grok to be an effective research assistant for everyone, helping with data processing, quick access to pertinent information, and idea generation," said X. The business also wants to develop AI solutions that benefit people from diverse backgrounds and political perspectives.
If you want to access the chatbot, there's currently a waitlist, and is only available for X Premium/verified users.
Also Read | Reliance Jio launches JioMotive for cars in India at Rs 4,999; Check features, how to install & more
Last Updated Nov 6, 2023, 3:01 PM IST