WhatsApp Web to roll out new screen lock feature for more privacy
The Meta-owned instant messaging application WhatsApp is now releasing a new screen lock feature for WhatsApp Web/Desktop. . It prompts for a password to access your conversation list. The feature will be possible to protect the app from unauthorized access with a password.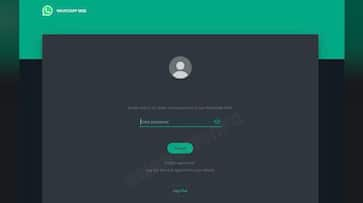 The instant messaging service WhatsApp, which is owned by Meta, has just introduced a new screen lock option for WhatsApp Web/Desktop in an effort to increase platform privacy. With the functionality, it will be possible to password-protect the app against unauthorised access.
"This functionality was still under development when we made the announcement, therefore beta testers were not available. The instant messaging service is now making this functionality available to certain beta testers who have the most recent version of WhatsApp Web and have signed up for the official beta programme," WABetaInfo stated.
Also Read | Apple iPhone SE 4 may come with USB-C port, Face ID and more: Report
As shown in the screenshot, WhatsApp Web is locked using the screen lock feature. It prompts for a password to access your conversation list.
You can go to Settings > Privacy to see if this option is available for your account. You should notice a screen lock entry point here if the feature is accessible for your account. When enabled, the Web app won't work without a password.
Also Read | Apple Watch X with magnetic bands and new design may launch in 2024 or 2025: Report
This functionality may also be configured by deciding how often the user should be asked for their password. You must log out of WhatsApp Web and re-log in by scanning the QR code if you forget your password.
Enabling the screen lock feature on the Web provides a privacy advantage. Even if someone gains access to your computer while you're away thanks to this feature, they won't be able to read your conversations and messages without the password.
In addition, while the screen is locked, push notifications won't show up. Users will be able to keep their interactions private and prevent unauthorised parties from viewing their personal information thanks to this. Some WhatsApp Web beta users have access to the screen lock function, and it will be made accessible to additional users in the upcoming weeks.
Also Read | Xiaomi Mix Fold 3 folding smartphone with Leica cameras to launch on August 14
Last Updated Aug 14, 2023, 12:29 PM IST