Virgin Galactic's Richard Branson to launch himself into space today; power the next space age
A twin-fuselage carrier aircraft, VMS Eve, will take off with VSS Unity and release it at the height of roughly 50,000 feet (15,000m). VSS Unity pilots Dave Mackay and Michael Masucci will then ignite its rocket engines, muscling the spacecraft to Mach 3 above the 50 miles (80km) altitude, which is considered the boundary of space.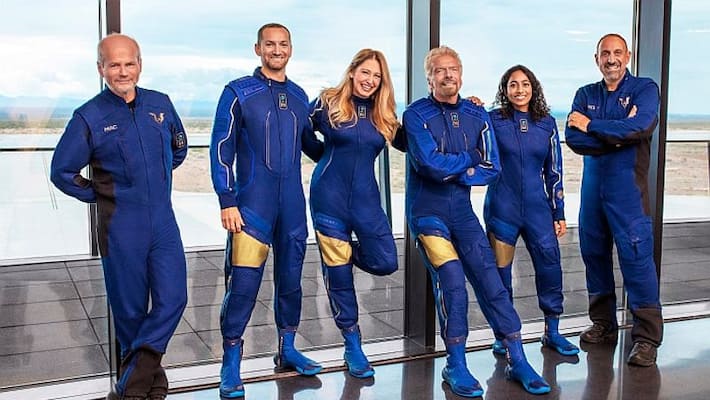 Billionaire and Virgin Galactic owner Richard Branson will today fulfil his 'Astro-tourism' dream onboard the VSS Unity, which will be the first crewed test flight to the edge of space.
Accompanying Branson are five astronauts, including Indian-American Sirisha Bandla, vice president of government affairs and research operations at Virgin Galactic.
The crew would evaluate the 'cabin environment, seat comfort, the weightless experience, and the views of Earth that the spaceship delivers, all to ensure every moment of the astronaut's journey maximises the wonder and awe created by space travel.' 
A twin-fuselage carrier aircraft, VMS Eve, will first take off with VSS Unity and release it at the height of roughly 50,000 feet (15,000m). VSS Unity pilots Dave Mackay and Michael Masucci will then ignite its rocket engines, muscling the spacecraft to Mach 3 above the 50 miles (80km) altitude, which is considered the boundary of space by the US. The spacecraft will then finally glides back to the original runway.
The company's spacecraft, known as the SpaceShipTwo Unity, has reached space thrice, and this would be the first time it will have a crew of four on board. 
In an interview, Branson said that he was 'incredibly excited' and that taking an early flight was 'honestly not' to beat Amazon CEO, Jeff Bezos. 
He said, "I completely understand why the press would write that," and added, "It is just an incredible, wonderful coincidence that we are going up in the same month."
Virgin Galactic has informed that the live broadcast will begin at 9 am ET or 6:30 pm IST. Virgin Galactic will broadcast the launch on its website as well as its YouTube channel. You can also watch it below:
The 17-year wait is coming to an end
Virgin Galactic received approval from the FAA that allows it to flu commercial passengers, which allowed Branson to join the crew. He said, "I have been itching to go, and they said they wanted somebody to properly test the astronaut experience," and added in the interview, "And I was damned if I was going to let anyone take that seat." 
Virgin Galactic CEO Michael Colglazier said in an interview that the Branson's crew would open the door for the rest to find a way to access space in the future. 
He said that after a thorough safety review and previous flight tests, the company deemed it safe for Branson to fly on the next test flight instead of the one after that. 
Branson said that he was keenly awaiting the trip after having waited 17 years to go to space and eventually allowing his customers to also go to space. 
He passed a statement that said, "I truly believe that space belongs to all of us. After 17 years of research, engineering and innovation, the new commercial space industry is poised to open the universe to humankind and change the world for good. It is one thing to have a dream of making space more accessible to all; it is another for an incredible team to collectively turn that dream into reality."
Virgin Galactic is expected to reopen ticket sales around the same time as Branson's flight, the company has about 600 people signed for its flights and initially had charged $250,000, but the price will increase. The company has not disclosed new prices, but analysts have estimated it to be as much as half a million dollars. 
Blue Origin has not disclosed its ticket prices as well but recently auctioned off a seat for $28 million for its first spaceflight mission; it has not disclosed the name of the winner either. SpaceX and Blue Origin are both privately held companies, whereas Virgin Galactic is publicly listed and traded under SPCE. 
Investors have spoken about the cons of the industry, one of which is that the lucrative market is only open and accessible to the ultra-wealthy, with only a few companies trading publicly.
Other billionaires in the line
Besides Branson, those currently planning to head for space include Elon Musk of SpaceX, Jeff Bezos of Amazon and Blue Origin and Yuri Milner backing the Breakthrough Starshot project.
While Branson's company focuses on space tourism, low cost small orbital launchers and intercontinental suborbital transit, Bezos is interested in establishing an industrial base in space.
Bezos announced that he would fly on July 20, the 52nd anniversary of the Apollo 1 moon landing, and his firm announced that he would be joined by Wally Funk, a member of the 'Mercury 13' which is a group of women privately tested and trained by a team of aviation medical experts for NASA's astronaut programme.
Both flights, Branson's and Bezos', will travel on suborbital trajectories that will scratch the edge of space and give passengers just a few minutes of zero gravity. 
Even though Blue Origin CEO Bob Smith wished Branson luck, he took a jab at the mission, saying, "They are not flying above the Kármán line, and it is a very different experience." 
Smith was referring to the difference in distances the two spacecraft are designed to travel. The New Shepard flies to an altitude of 100km (62 miles), which is the so-called Kármán line where, according to some experts, space begins. 
Comparatively, SpaceShipTwo Unity flies beyond 80 km (50 miles) above, which is defined as space, according to the Federal Aviation Administration.
The competition for space 
SpaceX and Blue Origin have a long-standing rivalry and have both released statements that compete with each other. Both the companies fought to lease the LC-39A, which is a rocket launch platform that was used to launch the Apollo moon missions, with SpaceX winning.
SpaceX sued the other to invalidate their patent on landing rockets aboard ships are sea and won in 2014; the company had been trying to land rockets at sea since 2014 and succeeded in 2016. They have also got into arguments on social media like the one on Twitter in 2015, where they argued over the definitions of a used rocket, a landed rocket and a space rocket. 
In 2016, Blue Origin announced the New Glenn, which directly competed against SpaceX's Falcon Heavy. 
In April 2021, SpaceX won the 2.9 billion dollar contract to build the lunar lander for NASA's Artemis program, beating Blue Origin. Blue Origin and Virgin Galactic are also in the same market of suborbital space tourism and have New Sheperd and SpaceShipTwo, respectively. 
Therefore, they are in a race to launch the first short spaceship with saying customers with rival technologies of space capsules and spaceplanes, the former for Blue Origin and the latter for Virgin Galactic.
Last Updated Jul 11, 2021, 9:50 AM IST