Steve Jobs' handwritten Apple-1 advertisement sold for Rs 1.44 crore in auction
According to RR Auction, a handwritten ad by Apple co-founder Steve Jobs for the Apple-1 Computer sold for an astonishing $175,759 (about 1.4 crore). The advertisement provides information on the early years of Apple and the brilliant intellect of Steve Jobs, who helped to bring forth a technological revolution.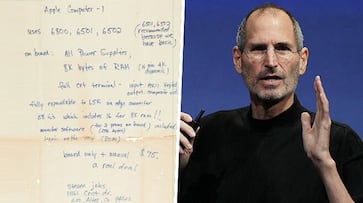 Older Apple products like the iPods and iPhones from the first generation have fetched high prices at auction. However, it is uncommon to find advertising being sold for $1,75,759, or almost Rs 1.44 crore, especially handwritten ones. This is the exact price at which a Steve Jobs-written Apple ad from the RR auction was sold.
According to media reports, the ad showcases details and features of the Apple-1 computer, along with additional information that Steve Jobs wished to include. "Board only + manual, $75. A real deal," Steve Jobs mentioned in the ad. The paper used for the advertisement bears Steve Jobs' signature and the address of his parents, who founded Apple.
Also Read | Apple iPhone 15 Pro may come with 150W charging cable?
Report further points out that this ad draft matches the first print ad of the Apple-1 featured in the Interface magazine's July 1976 edition. Additionally, two Polaroid photos of the Apple were included in the auction by RR Auction, along with a letter from Steve Jobs that said, "Fuzzy (photo) because camera wiggled."
Unfamiliar to some, the Apple 1 was an 8-bit desktop computer that Apple created and released on April 11, 1976. It is well known that Steve Wozniak and Steve Jobs each sold their individual possessions to raise money for this endeavour. The computer's MOS6502 CPU clocked at 1MHz and had a starting price of $666.66. Notably, this desktop computer's manufacture ceased on September 30, 1977—just a few months after Apple released the Apple-2.
Also Read | iPhone 15 Pro may drop gold, purple colour; likely to come in THESE two new shades
In recent years, legacy Apple devices have commanded significant prices in auctions— benefiting both auction houses and the owners of these devices. An Apple 1 computer that was first introduced in 1976 was auctioned off in 2019 for a staggering £3,71,000, or almost Rs 3.8 crores in today's money.
Additionally, a first-generation sealed iPhone was auctioned this year for $63,356 (about Rs 53 lakh). This further demonstrates the brand value that Apple has been able to create and the persistent desire among collectors for antique Apple goods.
Also Read | Moto G84 5G likely to debut in September, may feature 120Hz refresh rate display
Last Updated Aug 28, 2023, 12:06 PM IST