Stayzilla CEO's bail plea rejected.
He went missing for hours and later was said to be arrested.
A civil case was registered as a criminal case.
The family has claimed a delay in submitting the FIR, which in turn delayed his bail plea. Today, 10 days later Yogi is still in prison as his bail was rejected on the grounds of pending police custody application.
Yogi had penned down a blogpost with the incidents that followed up his arrest, which included threats, assaults and even bizarre incidents like a voodoo doll with the photo of Sachit Singhi's son's photo (co-founder). There are reports about how Aditya was looking for Voodoo doll and had even posted a query on Facebook. We had written to Aditya wanting to know his side of the story but there was no reply.
We've learnt from reports online that attempts were made to make Yogi confess and when that failed he was allowed to inform his family about his whereabouts. Getting a warranty after closing hours, delay in submitting the FIR copy to the family which in turn delayed the bail forcing him to spend the weekend in jail, and such incidents hint at the highhandedness and power clout and arm-twisting being used.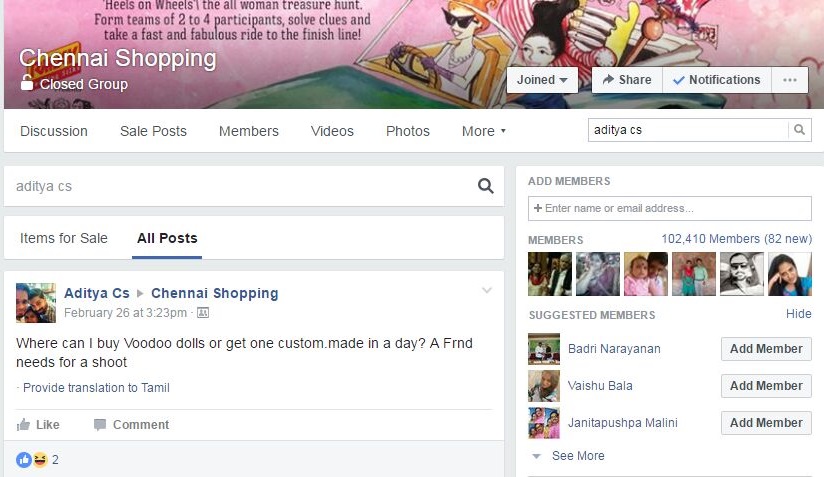 While accusing Stayzilla, CS Aditya had stated how startups raise money from investors, live a flamboyant lifestyle and then shut shop, leaving vendors to suffer. Moreover, he had also spoken about Yogi and his family members siphoning money.
It should be noted that Stayzilla was founded in 2005 and it was bootstrapped with founders pushing in their own money and borrowing from friends and family. After managing on their own, they raised money in 2015 that was about $20 million and thereafter $13.5 million in 2016. So, clearly there is money, considering the startup had raised millions just last year.
Yogi's post clearly mentions a rebooting and he isn't running away to be treated as a criminal. However, this also raises questions like why can't Stayzilla pay the dues as it hasn't run out of money and is planning a reboot?
A FactorDaily report, citing people familiar with the matter, said, "There was an internal note saying you cannot spend on non-employee and non-statutory expenses as part of the winding down process."
Stayzilla said that the company has already paid Jigsaw 6.5 crore and the services weren't satisfactory to cough up the rest, other reports add. And, he was ready to battle it out in the civil court. Meanwhile, CouponDunia founder had also tweeted about Stayzilla's pending dues.
On the other hand, CS Aditya's other claims of siphoning money by the founders and their family members have also been refuted by Yogi's wife and she has also posted some documents as proof on a Medium post. .
She explained:
1. Salaries drawn by Yogi (Rs.2,01,523/- gross per month) and Sachit (Rs.2,17,789/-)in spite of being the CEO and CFO respectively are much lesser than most of Stayzilla's department heads who they hired personally.
2. Not a single share of Yogi and Sachit was sold by them till date despite repeated offers from investors and pressure from family members.
3. Unfortunately, banks could only provide corporate credit cards in the names of individuals and not in the name of the company. The same were taken in the name of promoters for an online biz like ours to make online purchases of tools and softwares like GITHUB, AWS, JIRA etc.,
4. Before such grants of corporate credit cards from banks in the past, our online payments for Servers etc., were made using Yogi's Mother's Amex card that still continues to be the registered card with our server company till date.
5. The monthly payout to Yogi's dad that was 'exposed' and categorized as siphoning (cheap trick), which also got wrongly picked by some media without verification. It is actually the monthly rental under a Rental Agreement for Yogi's dad's apartment that is Stayzilla's registered office in R.A Puram, under Inasra Technologies Pvt Ltd since 2013 till date. This was not formalized in the initial years of occupation since 2007 but was done in 2013 after investments were received.
Yogi's wife has said that there is a record for every such related party transaction that one is trying to dig up on Yogi and Sachit.
However, the problem arises with the arm-twisting and route used by JigSaw. Reports claim cops were 'under pressure' to take the case under criminal proceedings from 'higher authorities'. This has also put forth reports claiming Aditya's father GC Shekhar is a popular Chennai journalist known to have political connections.
Meanwhile, the startup community has stood like a rock behind Yogi and even penned down a letter to Home Minister Rajnath Singh. 345 prominent entrepreneurs who support the letter have posted it on a website called www.help-yogi.com are asking for a free and fair trial.
The letter emphasises on the hardships of being an entrepreneur in India and the manner in which influence has been used to turn a civil matter into a criminal case and break down an entrepreneur. The whole episode puts India and its startup hub in a bad light, showing how a startup experience can be nightmarish for an entrepreneur.