iOS 17 new bug causing glitch? Users complain about iPhone shutting off at night
A growing number of Apple users are reportedly experiencing a recurring problem with their iPhones, affecting various models. In this recent instance, iPhones are spontaneously powering off overnight.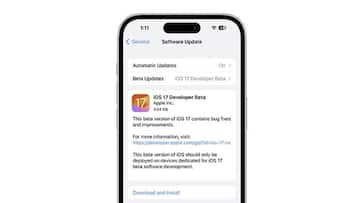 In an unprecedented occurrence, multiple Apple consumers from around the world have reported unexpected troubles with their iPhones, such as powering down and restarting overnight. While the rare iPhone crash may not seem like a huge deal at first, the problem is apparently repeating and is causing strange iPhones to power off for lengthy periods of time, causing issues for owners.
The persistent problem, according to many Reddit users and occurrences recorded by media reports, causes iPhone models to switch off briefly at night, interfering with alarms and other iPhone capabilities. A user also stated in a Reddit post that two distinct iPhone alarms in their home did not go off. Several other users reported similar problems, and others thought that some of the troubles were caused by the iPhone going off at night.
"Inspect your battery settings and see if there is a power outage during the night." Many iPhones shut off for a few hours during the night yesterday. "In my case, the phone came back on 1 minute before the alarm," a Reddit user commented.
In another iOS subreddit, a user by the name of Nathan Lessage wrote, "My iPhone just turned itself off between roughly 3AM and 7 AM. As my alarm went off, I noticed that I had to re-enter my SIM pin and it wouldn't get out of the sleep focus without my intervention."
It is crucial to note, however, that this issue is not limited to the new iPhone 15 series, since numerous customers with previous iPhone models have reported identical issues. This points to a potential issue with the most recent iOS 17. This problem is most likely related to an iOS 17 flaw, which might impact battery use statistics or force iPhones to shut down automatically for lengthy periods of time. 
Last Updated Oct 12, 2023, 4:50 PM IST