Gmail users will soon be able to reply to emails with 'Emoji Reactions': Report
Google is working on adding emoji reactions to Gmail, allowing users to quickly respond to emails with a simple emoji, giving a more personal touch to communications. The option to add emoji reactions will appear as a silhouette of a smiley face emoji to the right of an email, and recipients using Gmail will see the reaction at the bottom of the email.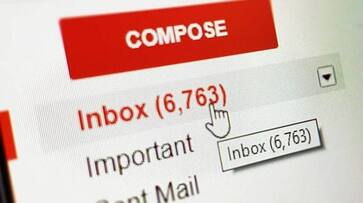 Emojis may soon replace written responses as a preferred method of email replying for Gmail users, according to reports. According to rumours, the internet giant is presently implementing a feature that would allow users to respond to emails with emojis from within the Gmail interface.  Some Android users can see this capability in action even though it hasn't yet been made available to all users.
Alongside the standard respond button, an emoji reaction button is now included into emails in this new arrangement. It starts out by providing a number of well-known emojis including hearts, party hats, thumbs up, cheerful faces, laughing, and prayer hands.
Furthermore, there is a handy "+" button at the end that enables you to select from a variety of emojis to reply to the email. Your chosen emoji will then be shown at the email's bottom after you have made your selection.
Also Read | iOS 17 feature: 3 easy steps to activate StandBy mode on your Apple iPhone
Additionally, users are not limited to responding to a single email. Although there seems to be a cap of 50 separate reactions, they have the freedom to incorporate numerous reactions in a single email, the report from the newspaper notes.
Your response will appear as a unique email for the recipient, prominently displaying the chosen emoji, especially if they are not using Gmail with emoji replies. Users of Gmail, however, do not perceive the response as a distinct reply; rather, it is smoothly included into the first email.
Also Read | Oppo Find N3 Flip to launch in India soon? Here's what you can expect
According to rumours, when you use emoji reactions in Gmail, your responses are seen by other Gmail users as a part of the context of the original message, while recipients outside the Gmail ecosystem see them as reply emails. Emoji reactions in Gmail are approaching and are probably going to be accessible sooner rather than later, even if Google hasn't given a particular release date for this feature. However, its functional existence within the Android app suggests that this is the case. 
Also Read | WhatsApp update: Messaging app rolls out new 'Reply Bar' feature; Know how it works
Last Updated Oct 3, 2023, 11:17 AM IST