Delhi air pollution: 5 best air purifiers to keep your home protected
The AQI in Delhi-NCR breached the very poor category and entered the severe category earlier this week. It is expected to go down in the coming days and having an air purifier in Delhi NCR is a must. Check out the top-notch options to buy right now.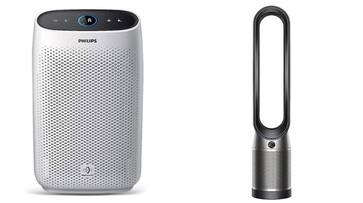 The pollution in Delhi NCR has been breached to the very poor category and it will worsen in the coming days. People still have trouble breathing properly in Delhi NCR areas like Noida, Gurugram, and Faridabad due to the poor air quality. It is advised to stay indoors as much as possible during these kinds of weather conditions as they might cause a number of respiratory illnesses and disorders. You can also improve the quality of the indoor air by purchasing an air purifier. 
If you live in Delhi NCR, having an air purifier is essential, especially if you have elderly or young family members. 
Philips Ac1215/20 Air Purifier
One of the best brands of electronics and household equipment is Philips. These high-quality air purifiers are designed to remove dust, allergies, germs, viruses, and other contaminants from indoor air. It is ideal for usage in Delhi NCR these days since it automatically detects the quality of the air and eliminates 99.97% of airborne pollutants as small as 0.003 microns, which are 800 times smaller than PM 2.5.
Also Read | Diwali 2023: These states have banned bursting, selling crackers this festival
Activated carbon, a pre-filter, and a TRUE HEPA filter are the three stages of filtration that make this one of the best air purifiers available in India. In Night Mode, you may also change the device's brightness settings to match the amount of light in the space.
Price: Rs 8,999.
MI Xiaomi Smart Air Purifier 4 Lite
As is often the case, if you are residing in Delhi NCR, you are aware of the bad quality of the air and you expect it to grow worse as soon as Diwali arrives. You need an air purifier in your house if you want the indoor air quality to be breathable. This Mi air purifier is a terrific asset to any home that has an improved all-around air intake and 360-degree air suction. The Xiaomi Smart Air Purifier 4 Lite can generate 6000L of clean air in a minute, with a particle CADR of up to 360 m³/h. To cope with AQI, this is one of the finest air purifiers for Delhi NCR that you should get right now.
Price: Rs 8,997.
Also Read | Delhi-NCR's air quality turns 'severe', schools to be closed for 2 days
Dyson Pure Cool Link Air Purifier TP03
One of the top brands of air purifiers in India, Dyson offers a variety of choices to suit every type of household. Having an air purifier at home is essential because the Delhi NCR's air quality has surpassed the 600-point threshold, particularly for those with elderly or young family members living there.
99.95% of allergens and pollutants as fine as PM 0.1, such as dust, pollen, mould spores, bacteria, pet dander, volatile organic compounds, and other hazardous gases, are automatically removed by this Dyson air purifier for the house.  It is one of the greatest air purifiers in Delhi NCR, India, since it contains a HEPA filter and a bladeless fan with reverse airflow mode that cleanses without cooling.
Price: Rs 39,900.
Also Read | 7 ways to protect yourself from Delhi pollution
Daikin MC55XVM6 Air Purifier
With its exclusive offering, Daikin guarantees an endless supply of HEPA and odour filters. When in quiet mode, it is incredibly quiet (19dB) and covers a vast 440 square feet. It can be operated easily with a remote control and includes an auto-start feature that turns it on automatically.
Price: Rs 23,000.
Amazon Basics Portable Air Purifier
This reasonably priced choice is ideal for anyone seeking a straightforward, uncomplicated air filtration system and is suitable for use in vehicles, homes, or offices. With its Smart Negative Ions feature, it can generate tiny pockets of clean air on its own, and its HEPA H13 filter promises to remove 99.97 percent of dust particles.
Price: Rs 2,199.
Last Updated Nov 3, 2023, 4:50 PM IST