Apple is working on generative-AI based features, confirms CEO Tim Cook
Apple has yet to launch a generative AI product to compete with the likes of ChatGPT and Google Bard. But when it comes to answering questions about Apple's generative AI efforts, CEO Tim Cook's comments are ready for mass production.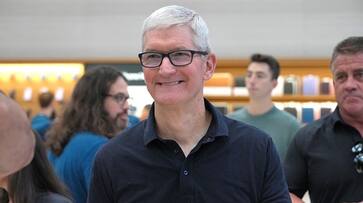 Ever since OpenAI launched ChatGPT, a generative AI chatbot that wowed us all with its human-like responses, discussions about Apple coming with a similar tech have been doing rounds on the internet.  Tim Cook, the CEO of Apple, has also begun to discuss it recently. Cook stated in August of this year that Apple has been developing next-generation AI capabilities "for years" and would keep making investments in the field. Furthermore, Cook has affirmed that Apple is developing generative AI in a recent conference call with investors. He stated that efforts are being made in this area and that the corporation wants to use technology responsibly.
According to media reports, Tim Cook stated that Apple is developing generative AI and that the business intends to use it responsibly during an investor call. There are also some speculations indicating that by 2024, consumers may have similar AI functions. This information, however, should be regarded with caution as it is only conjecture and has not yet been verified.
Also Read | Revealed: How Indian tech prodigies raised $2.3 million from ChatGPT creator Sam Altman and others (WATCH)
Returning to Cook's remarks, he stated that "work going on" in the area of generative AI, according to the report. He declared, "It goes without saying that we are working on generative AI. I won't get into specifics about what it is since, as you are aware, we don't actually do that. However, we are definitely investing. We're making large investments. It will happen if we act appropriately. Over time, you'll witness product innovations using those technologies at their core."
Cook made hints about Apple's generative AI aspirations back in August of this year. According to media reports, he stated that the business has been making long-term investments in generative AI, and this has translated into increased R&D spending. 
Also Read | 2024 Apple Watch series may feature blood pressure monitoring & sleep apnea detection: Report
As of now in the fiscal year, Apple has spent USD 22.61 billion on research & development, an increase of almost USD 3.12 billion over the same period last year. In related news, you can see that Apple is looking for generative AI positions by visiting their US employment page. There are several search results that appear when you enter the term "Generative AI." 
Last Updated Nov 3, 2023, 6:20 PM IST