Liverpool star Luis Diaz urges kidnappers to release father following goal against Luton on return
After scoring a crucial goal in Liverpool's clash against Luton Town in their Premier League 2023-24 clash on Sunday, star forward Luis Diaz pleaded for his kidnapped father's release from ELN guerrilla group in a heartfelt statement on X.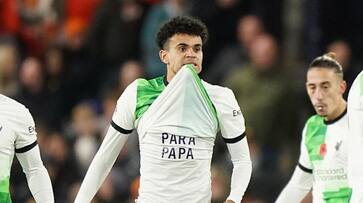 Colombian international footballer Luis Diaz faced a heart-wrenching situation as he pleaded with the guerrilla group responsible for the abduction of his parents to release his father, Luis Manuel Diaz. His mother was fortunately rescued swiftly after the kidnapping, but the search for his father continued. Upon returning to the field for Liverpool, Diaz scored a crucial stoppage-time equalizer against Luton on Sunday, displaying a powerful message on his shirt: "freedom for Dad."
In a heartfelt statement shared on social media, Diaz appealed directly to the ELN (National Liberation Army), urging them to promptly release his father.
"I ask the ELN for the prompt release of my father, and I ask international organisations to intercede for his freedom," Diaz said in a statement posted on X, formerly Twitter. "This goal is for the freedom of my father and all the kidnapped people in my country. Thanks to everyone for your support," the Liverpool star's caption read.
On Saturday, the head of Colombia's ELN guerrilla group acknowledged the organisation had made a "mistake" in taking Diaz's parents. The abduction took place in Barrancas, the hometown of the Diaz family, situated close to the Venezuelan border.
Expressing the escalating anguish and distress, Diaz emphasized the excruciating wait for his father's return, highlighting the desperation felt by himself, his mother, and his siblings. He stressed the necessity to end this distress by urging the immediate release of his father and respecting his well-being.
"Every second, every minute our anguish grows," Diaz added. "My mother, my brothers and I are desperate, distressed and without words to describe what we are feeling. This suffering will only end when we have him back home. I beg you to release him immediately, respecting his integrity and ending this painful wait as soon as possible."
During his first appearance for Liverpool since the abduction, Diaz made a significant impact as an 83rd-minute substitute, underlining his dedication to the game despite the personal turmoil he and his family were enduring. The situation remains tense as they await any developments in the search for his father.
Also read: 'Robbed': Outrage after controversial VAR decision in Newcastle vs Arsenal clash ends Gunners' unbeaten run
Last Updated Nov 6, 2023, 11:42 AM IST