WATCH: Ronaldo goes vroom in his £8.8 million Bugatti Centodieci; fans in Madrid go berserk
Portugal legend and Al Nassr star Cristiano Ronaldo was spotted in Madrid recently, and fans went berserk when the former Real Madrid icon drove his mega-rare £8.8million Bugatti Centodieci through the Spanish capital.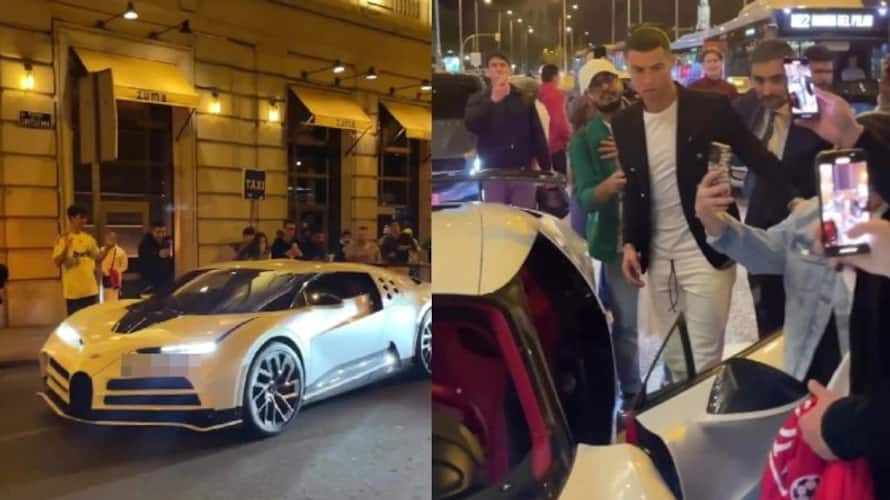 Legendary Portuguese icon Cristiano Ronaldo recently sent Madrid fans into a tizzy as the Al-Nassr star was spotted driving his ultra-rare £8.8 million Bugatti through the Spanish capital. The 38-year-old striker, who recently played two games for his country in the UEFA Euro 2024 qualifiers, owns one of the most exclusive vehicles from the French luxury brand. He is among just nine other individuals worldwide to drive the car.
Due to the crowds of fans encircling the car, Ronaldo could not fully utilise the 1,600 horsepower vehicle, which has a top speed of 240 miles per hour.
A viral video shows the five-time Ballon d'Or winner getting into the driver's seat of the white supercar while being guarded by a bodyguard and wearing a white t-shirt, white pants, and a dark blazer. While some chanted Ronaldo's name, the fans frantically attempted to take photos with the football legend.
Ronaldo then started the engine and slowly rolled away, the enormous eight-litre W16 engine scarcely making a sound. The former Real Madrid icon's vehicle, which he purchased last year, was seen for the first time in public while being driven by him.
The Centodiece, Italian for "110," was created to commemorate Bugatti's 110th birthday. In the ten-car series, Ronaldo, a devoted customer, secured position No. 7, matching the number he has been associated with throughout his career. His model has a Portuguese licence. 
In addition to Aston Martins, Ferraris, Lamborghinis, and Rolls Royces, the former Manchester United player's impressive vehicle collection includes a Bugatti Chiron and a Bugatti Veyron Grand Sport Vitesse.
Ronaldo was unable to include the most expensive and famous Bugatti, though. When it was built in 2019, the unique Bugatti Voiture Noire cost an astounding £9.69 million upfront before taxes, making it the most expensive vehicle ever.
Nevertheless, the Voiture Noire indeed went to the family of former Volkswagen Group Chairman Ferdinand Piech, despite false reports claiming Ronaldo did obtain it.
Last Updated Mar 30, 2023, 10:17 PM IST