Road to Euro 2024: Nail-biting moments as teams battle for qualification
As the Euro 2024 qualifiers reach their pinnacle, certain teams have secured spots, while others face a nail-biting finish.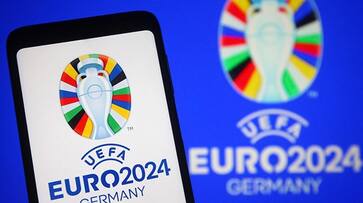 As the Euro 2024 qualification race intensifies, teams across various groups are vying for coveted spots in the tournament. With intriguing dynamics in play, this overview delves into the current standings, possible outcomes, and pivotal matchups that will determine which teams secure their place in the highly anticipated Euro 2024. Explore the intricate scenarios shaping the future of European football as teams navigate the final stages of qualification.
Which teams still have a chance to qualify from each group?
Group A: The competition in Group A is settled, with only the top spot left to be determined between Spain and Scotland.
Group B: The Netherlands hold a significant head-to-head advantage over Greece, their contenders for the second spot. Securing one win in their last two matches against Ireland and Gibraltar will guarantee the Netherlands the second spot. In essence, they are on the verge of qualification. Greece, on the other hand, shares the same points as the Dutch but has only one match left against the already qualified France.
Group C: The battle for the second spot behind England is between Ukraine and Italy. The Euro 2020 champions will face North Macedonia first, and a victory would level them on points with Ukraine. The two nations will then have a de facto playoff in the final round of games. Italy won the previous encounter 2-1, so a draw would favor them. However, this is Ukraine's "home" match, scheduled to take place in Leverkusen, Germany.
Group D: The competition for the second spot is open among three teams, but it appears to be between Wales and Croatia, both tied on points. Croatia has a more favorable remaining schedule, facing fifth-placed Latvia and fourth-placed Armenia. In contrast, Wales will play against Armenia and group leaders Turkey. However, Turkey has already qualified, and Wales holds a superior head-to-head record over Croatia, thanks to Harry Wilson's double in their 2-1 victory in October.
Also Read: LaLiga 2023-24 update: Lewandowski ends goal drought, Atletico's victory and Sevilla derby ends in draw
Group E: No team has secured qualification yet, leaving numerous possibilities open. Albania leads, two points ahead of the Czech Republic. Poland is one point behind the Czech Republic, and Moldova is another point behind in fourth place, still in contention. Poland, with only one remaining home game against the Czech Republic (or Czechia, per UEFA's terminology), faces challenging odds for a top-two finish. Albania, set to play the Faroe Islands in their last match, seems likely to secure a qualifying spot. However, if Moldova defeats Albania at home, they could be at least third heading into the final round, where they play away against the Czech Republic. This match would then serve as a crucial one-match showdown for a place in Euro 2024. If Moldova beats Albania, and Czech Republic wins in Poland, both teams will qualify.
Group F: Belgium and Austria have already qualified, with Belgium leading by one point and one match left for each team.
Group G: While no team has officially qualified, Hungary (14 points) and Serbia (13) are well ahead of Montenegro (eight). Montenegro could technically overtake either team with two remaining games. To secure qualification, Montenegro must win both their matches, hope Hungary loses their next game (against Bulgaria), and/or Serbia loses on the final matchday (against Bulgaria). If Montenegro beats Hungary on head-to-head or if Serbia draws their final game and Montenegro wins both, Serbia progresses. Bulgaria, with only two points in the group, is unlikely to impact the qualification scenarios.
Group H: Slovenia, Denmark, and Kazakhstan form a captivating top three, with Slovenia and Denmark tied on 19 points and Kazakhstan on 15. The top two face each other in Copenhagen, while Kazakhstan plays San Marino. If Kazakhstan wins and Denmark secures at least a draw, the final day becomes a decisive one-match encounter between Slovenia and Kazakhstan. A win for either Slovenia or Denmark in their meeting guarantees qualification. Denmark, with a better head-to-head over Kazakhstan, can ensure progression by drawing both their last two games. Slovenia can afford to lose to Denmark and draw with Kazakhstan but will not qualify if they draw and then lose, assuming the third-placed team doesn't slip up against San Marino.
Group I: Israel's chances of progression diminish after losing to Kosovo. Switzerland, currently second, can secure qualification by defeating Israel. Romania, currently on top, faces Israel (third) and Switzerland (second) in their last two fixtures.
Kosovo fans before the start of the game: 
If Switzerland beats Israel, a draw for Romania against the same opposition would be enough for their own progression. Regardless of Israel vs. Switzerland, a win for Romania over Israel also qualifies them. Kosovo needs a mathematical miracle, requiring victories against Switzerland and Belarus, along with specific results involving Switzerland and Israel. Slovakia can secure qualification by beating Iceland at home and facing Bosnia-Herzegovina away on the final day. Luxembourg must beat Bosnia at home and Liechtenstein away while hoping Slovakia loses both, as Slovakia holds a better head-to-head. Iceland faces an uphill battle and likely needs extraordinary events to qualify, such as Cristiano Ronaldo changing nationalities, given their last match against Portugal away.
Also Read: Viral Video: Egyptian football stadium erupts with chants of solidarity for Palestine amid Gaza war (WATCH)
Last Updated Nov 13, 2023, 9:18 PM IST