Cristiano Ronaldo, awaiting Al-Nassr debut, sends inspirational fitness message to fans
Legendary striker Cristiano Ronaldo, who is waiting to make his debut on Saudi Arabian soil for Al-Nassr, took to Instagram to send an inspiring fitness message to fans.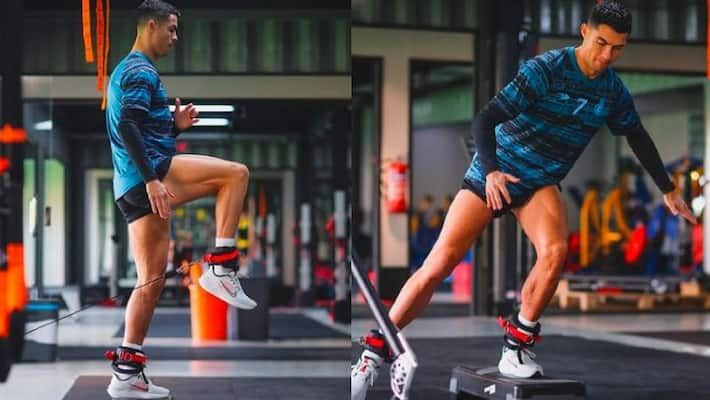 Since he signed for Saudi Arabian club Al-Nassr, legendary striker Cristiano Ronaldo has stirred massive excitement among fans, who eagerly wait to see the Portuguese talisman debut for his new club. The 37-year-old icon has faced a few hiccups since he landed in Riyadh earlier this week for his official unveiling.
On Friday, al-Nassr fans expected Ronaldo to play in the Saudi Pro League clash against Al-Ta'ee. However, the five-time Ballon d'Or winner will have to wait to start the new chapter in his illustrious career due to a pending 2-match FA ban for the infamous incident at Everton following Manchester United's loss at Goodison Park last season.
Also read: Ronaldo cheering Al-Nassr star Talisca's goal against Al-Ta'ee while cycling sets Twitter joke factory rolling
Al-Nassr has also struggled to register Ronaldo, the club's ninth foreign player. The Saudi Pro League limits teams to have only eight imports, hence the club will have to offload one of its foreign recruits to accommodate Ronaldo.
Regardless of all the drama surrounding the Portuguese icon's debut, Ronaldo is focused on his training and workout schedule. The former Manchester United superstar has sent an inspiring fitness message to his fans, hoping to see their favourite player stamp his authority on Asian soil.
"Make every workout count," wrote Ronaldo in an Instagram post along with photographs of himself undergoing intense training in Riyadh. This inspiring message from CR7 came hours after a video of him cycling in Al-Nassr's dressing room while cheering for the team's second goal in Friday's clash went viral.
Also read: Man United to Ronaldo's rescue? Red Devils' 'loan swoop' for Aboubakar could help Al-Nassr register CR7
"I will get my Ronaldo Body Goal this year. I won't let you down my Idolo," wrote one CR7 fan in the comment section, while another added, "The greatest athlete in history!"
A third Ronaldo fan noted, "Legend is back," while a fourth praised the Portuguese talisman calling him an "Unstoppable machine."
Al-Nassr will face Al-Shabab in the Saudi Pro League on January 14 and then Ettifaq on January 22. On January 19, a friendly between Paris Saint-Germain (PSG) and combined XI of Al-Nassr and Al-Hilal stars is scheduled, which has sparked excitement that Ronaldo could make his debut on Saudi Arabian soil in a clash against his arch-rival Lionel Messi.
Time will tell when Ronaldo makes his highly-anticipated debut for Al-Nassr. In the meantime, the excitement among fans only continues to skyrocket.
Also read: Last Messi vs Ronaldo clash? Argentina's Gallardo to coach Al-Nassr & Al-Hilal stars in friendly against PSG
Last Updated Jan 7, 2023, 9:33 PM IST