Chelsea 4-4 Man City: Pochettino apologises to referee Taylor and Guardiola post full-time rage (WATCH)
Manchester City moved a point clear at the top of the Premier League on Sunday after a thrilling 4-4 draw against Chelsea at Stamford Bridge, which saw a dramatic end with Blues' boss Mauricio Pochettino displeased with referee Anthony Taylor.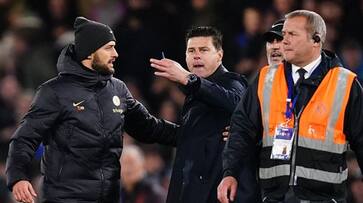 Chelsea manager Mauricio Pochettino has issued apologies to both Pep Guardiola and referee Anthony Taylor after a spirited Premier League encounter at Stamford Bridge on Sunday. The match saw Chelsea coming from behind three times during the 4-4 draw, with former Manchester City forward Cole Palmer scoring an injury-time penalty to secure a hard-fought point against his former club.
The intense game concluded in a heated manner when Pochettino, displeased with Taylor's decision regarding a denied goal-scoring opportunity after the final whistle, approached the officials in an angry manner. Pochettino had to be restrained by his coaching staff during the post-match confrontation.
Man City boss Pep Guardiola found himself waiting to shake hands with Mauricio Pochettino, but eventually, he decided to return down the tunnel without exchanging pleasantries with the opposing manager.
Pochettino, who was booked for his role in the episode, said, "I need to apologise to Anthony and the referees and the fourth official. In the moment, I felt that maybe Raheem [Sterling] can go through and go to score the fifth. I deserve to be booked because I crossed the limit. It's not a good image for me and for football, this type of behaviour."
The Chelsea manager added, "I want to apologise to him [Guardiola] also because in this moment I didn't see him."
"No problem. It's fine. Emotions, it happens to me sometimes. It's fine," Guardiola responded.
Pochettino commended his team for displaying "character" in their persistent battle against the Premier League champions. He emphasized that they demonstrated their ability to dominate against a top-class side.
"We showed character, mentality. We showed that we also have tools – against a team like City – to dominate and create chances. We are still far away in terms of the table. But now there is a different noise in the stadium and this kind of performance we can really use for the future," the Argentine said.
He added, "I'm very proud. So happy, I think the players deserve full credit because the performance this evening was amazing. We face a team that for me is the best team in the world. Of course, always things to improve but it's the process when you want to build a journey and want to build a project from zero."
"[The game] was amazing - that is why the Premier League is the most unbelievable league in the world. Everybody wants to be involved in amazing games. It is difficult to talk as everyone wants to say how exciting the game was. Manchester City are the best team in the world and Chelsea were brave and tried to go for three points," Pochettino stated.
Guardiola, on the other hand, acknowledged that Chelsea lived up to the expectations set by their significant investment. He conceded that he always anticipated a challenging match at Stamford Bridge, admitting that his team faced difficulties in certain moments.
"What they [Chelsea] have done in the market is to do this. They will be there this season and for sure in future seasons because they are built for that," the City boss said.
He added, "If you expect everyone to come here and win 0-7 then you are wrong. Do you know what Chelsea have done (to build this team)? In the past it was City, City, City who have done that. Look at what Chelsea have done to create that fantastic team? So it's normal. I couldn't have expected a different type of game, but we were close and maybe we didn't manage perfectly in some moments - but it's football."
"Always I give credit to the opponent. They played really good. Everyone wants to beat us because you know what happened in the past is a lot. There's nothing to lose for them. If Chelsea lose against City people will say it's normal. That isn't the reality, always Chelsea at Stamford Bridge has been tough - since I came in this country, since I was in Barcelona, in Bayern Munich. Always really tough. So why not give credit to Chelsea?" he concluded.
Last Updated Nov 13, 2023, 10:38 AM IST