PV Sindhu fights hard but loses to Carolina Marin in Denmark Open semifinal
Indian badminton star PV Sindhu faced a demanding test in the semifinal of the Denmark Open Super 750 tournament, where she battled against Spain's Carolina Marin.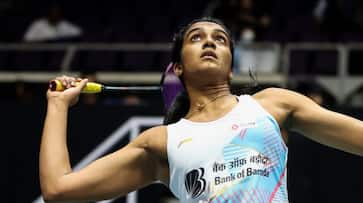 PV Sindhu's challenges on the badminton court continued as she faced a tough battle against Carolina Marin of Spain in the Denmark Open Super 750 tournament's semifinal, held in Odense, Denmark on a Saturday. In a grueling match lasting one hour and 13 minutes, the Indian shuttler struggled to maintain her ground and eventually lost with a scoreline of 18-21, 21-19, 7-21.
Despite the setback, it's worth noting that PV Sindhu had showcased her prowess earlier by securing a place in the semifinals. Her quarterfinal victory over Supanida Katethong of Thailand had set the stage for this intense showdown. Additionally, Sindhu's recent semifinal entry at the Arctic Open Super 500 in Finland highlighted her consistent performance on the international badminton circuit.
While the Denmark Open outcome may not have been in her favor, Sindhu's determination remains an inspiration for her fans and the world of badminton.
Also Read: United States Grand Prix qualifying drama: Charles Leclerc takes pole, Verstappen's lap invalidated - WATCH
Last Updated Oct 21, 2023, 6:26 PM IST