Tamil Nadu CM Jayalalithaa breathed her last on December 5 in Chennai.
Her dynamic personality made a national political figure.
Her speeches echoed the popular sentiments making her a people's leader.
In a political career that span over three decades, J Jayalalithaa achieved a feat that no other politician can ever achieve anytime soon in India. She is a dynamic personality and a dignified politician who stood her ground, worked for the people, and despite being mostly into regional politics gain attention and hold the attention of the nation till her last breath. 
One of the most beloved contemporary politicians, Jayalalithaa was a fierce speaker, and as a member of Rajya Sabha during 1984 to 1989 her speeches covered various topics that impressed the fellow parliamentarians and masses with her progressive thoughts. 
Here are a couple of quotes at various occasions: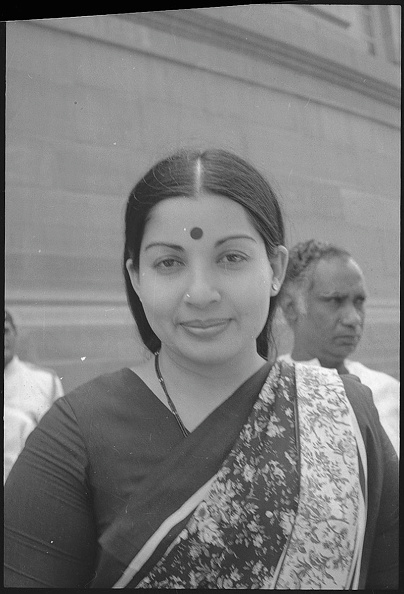 1. On being a people's representative: 
I have come here as the representative of the weaker sections of our society, the toiling masses, the crores of humble workers, farmers, poor agricultural labourers and women, to give oral manifestation to their feelings, aspirations and legitimate desires and make them known to the rest of the country. (1984) 
2. On central government's taxation: 
Even the water we drink is taxed. The only item -- if I may so refer to it -- that is left untaxed is the air we breathe, and even that air is not free -- I mean, it is not free from pollution. It is contaminated with smog and harmful oxides and poisonous fumes. (1984) 
3. On Hindi language and its usage:
Now, if you listen to the commentary, you will find that except for the most mundane phrases such as 'Wo dowdkar aaya, woh balle baazi kar rahe hai...', 'Aur unhone gend phenk di ...' other than that 99% of the commentary is in English. To describe field placements such as slip, gully, mid-off, mid-on or technical terms such as wicket, batting average, or bowling average or maiden over there are simply no words in Hindi for these terms. Who is benefiting by this? Is this not an enormous waste of time and money? It may as well be that the whole commentary is done in English. 
4. On the realities of film artistes:
So much adverse damaging publicity is given to film stars, so many myths are built around them that the harsh realities of their existence are clouded over by deliberately nurtured wrong impressions. 
5. On the condition of Women's Home:  
The deplorable horrific conditions in this Women's Home are nothing new. Though it is shocking to hear about them, we are inured to such shocks as such instances are common place in our country. Probably we would be really shocked if we came across a Women's Home which is genuinely well run and where the inmates are decently treated for a change. 
6. Damages adds beauty:
When the Japanese mend broken objects, they aggrandize the damage, by filling the cracks with gold. They believe that, when something has suffered damage and has a history, it becomes more beautiful. This indeed is true, for the millions of cancer survivors, who have come out stronger, and more beautiful than before.
7.  On educating girl child:
The provision of free education for girls up to the higher secondary level is a measure that deserves unstinted praise and in this regard, I am reminded of the words of Maxim Gorky, "The measure of culture is one's treatment of women."
8. On empowering women: 
Only when women are financially independent, they will gain confidence and willpower to bridge the gender gap. If a woman thinks she can, she can not only rewrite her fate but also the lives of others. 
9. On riots, violence and Godhra train burning:
It is very strange and saddening to see that when such acts are perpetrated against the minorities, all political leaders rush to issue statements of condemnation. But when persons belonging to the majority are subjected to similar perpetration of heinous crimes, not a single political leader has so far issued a statement condemning this barbaric crime. Such acts of senseless violence should be condemned no matter who is responsible for them and no matter who the victims are.
10. On female representation in politics: 
It has been my wish that the long-pending demand for reservation of one-third of seats in Parliament and state legislature for women should be fulfilled.
11. From an actress to a politician:
I'm a bit unconventional for a politician. The rule of the game seems to require considerable play-acting. I have acted in films before the cameras but I'm incapable of acting in real life.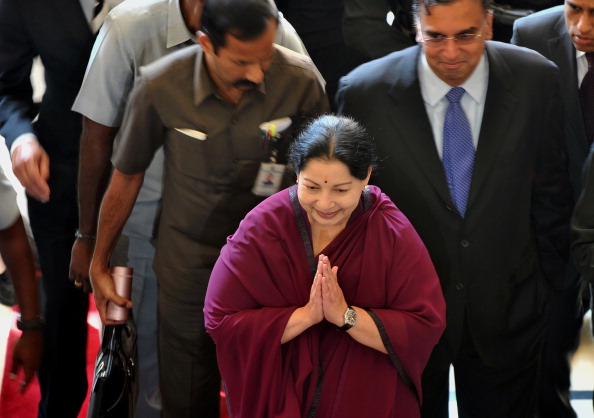 12. On being self-made woman politician: 
I am a self-made woman. Politics has for long been a male bastion. Mrs. Indira Gandhi changed all that, but still you must remember that Mrs. Indira Gandhi had all the inbuilt advantages. She had the advantage of being born in the [Nehru Family].
13. On being dedicated to the people of Tamil Nadu:
I don't have any other interest in life other than working for the people of Tamil Nadu. My life is dedicated to the people of Tamil Nadu and work for their betterment till her last breath.
14. On her own life:
One-third of my life was dominated by my mother, the other part — a major one — was dominated by MGR. Two-third of my life is thus over. One third remains and this part of my life remains for myself but there are some responsibilities and duties to be fulfilled. 
15. And, finally, 
I could go on and on in this vein but I now conclude with these words of Tennyson: So many worlds, so much to do, so little done, such things to be. But there is moe than I can see And what I see, I leave unsaid.