NASA halts work on lunar lander with SpaceX amid Blue Origin lawsuit
NASA said in a statement that work on the human landing system with SpaceX had been halted until November 1.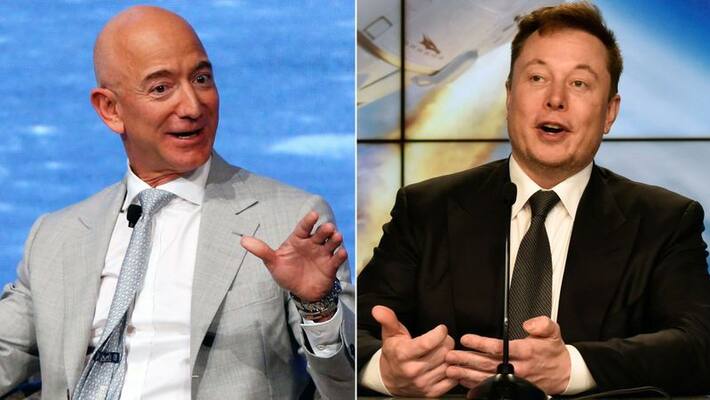 After rival billionaire businessman, Jeff Bezos's Blue Origin sued the US government, the National Aeronautics and Space Administration (NASA) suspended construction on a $2.9 billion lunar lander contract given to Elon Musk's SpaceX. Blue Origin filed a lawsuit, saying it was "an attempt to rectify the weaknesses in the procurement process discovered in NASA's Human Landing System." According to the US Court of Federal Claims, a judge has scheduled a hearing on the matter for October 14.
NASA said in a statement that work on the human landing system with SpaceX had been halted until November 1.
"In exchange for this temporary suspension of operations, the parties agreed to an expedited litigation timeline that concludes on November 1," the US space agency announced. According to the statement, authorities are continuing to work with the Department of Justice to assess the facts of the case and look forward to resolving it.
Also Read | NASA's Hubble shares stunning image of 'Arp 195' triplet galaxies in tug-of-war
The US Government Accountability Office (GAO) rejected Blue Origin's complaint last month and concurred with NASA to select a single lunar lander supplier.
This week, SpaceX, led by Tesla Inc. CEO Elon Musk, intervened in the Blue Origin case to ensure the court had a "full and accurate picture of the facts and circumstances underlying this complaint, including the considerable harm that SpaceX will suffer if the court granted the remedy sought."
Blue Origin, the rocket firm created by Amazon.com Inc founder Jeff Bezos, has stated that it remains persuaded that NASA's judgement had "fundamental flaws" that the GAO was unable to address "because to their restricted jurisprudence."
Also Read | Watch: NASA's video shows 'one star' of the solar system ejecting billions of particles at superfast speed
NASA has solicited suggestions for a spaceship that would transport men to the lunar surface as part of the Artemis programme, which aimed to return humans to the moon for the first time since 1972.
On Thursday, the space agency announced that it "is dedicated to Artemis and preserving the United States' worldwide leadership in space exploration. We will go to the moon with our partners and stay to enable research studies, build new technologies, and generate high-paying employment for the common good, as well as to prepare to send people to Mars."
NASA granted SpaceX a contract in April to build such a spaceship as early as 2024.
Last Updated Aug 23, 2021, 1:23 PM IST