Meet Nagendra, a proud Kannadiga who's behind PM Modi's yoga magic
If PM Modi's success in life is attributed to yoga, then the credit should be given to a Kannadiga who has helped Modi beat stress. Padma Shri prof HR Nagendra is better known as a personal instructor of yoga to PM Modi. It is he who proposed to Modi to take up sukshma vyayama, asanas, pranayama which have kept him fit both inside and outside.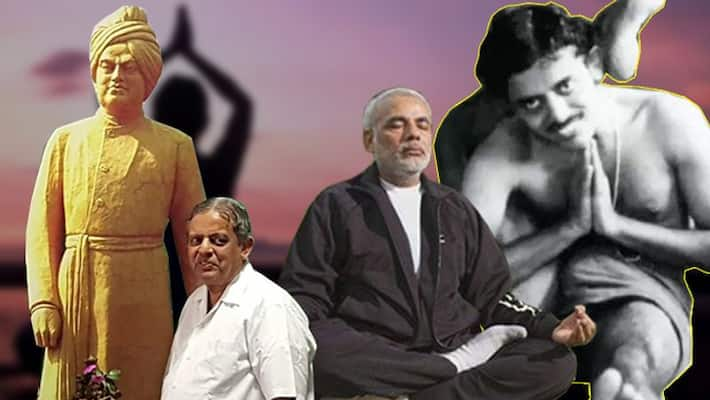 Bengaluru: If PM Modi's endorsement of yoga has made it world famous ever since its inception on June 21  2015, the key person behind Modis' yoga magic is a Kannadiga. Padma Shri prof HR Nagendra, who is better known as a personal instructor of yoga to PM Modi.
According to prof HR Nagendra, founder vice chancellor of Swami Vivekananda Yoga Anusandhana Samsthana (S-VYASA), Modi is a true yogi who has integrated practices of yoga as propounded by Swami Vivekananda.
PM Modi's association with Prashanthi Kutiram Swami at S-VYASA about dates back to 30 years. Prof Nagendra was a mechanical engineer and started his career by joining IISc as a member of faculty of mechanical engineering. His interest in yoga has made him a master. Nagendra is reported to be the pioneer of cyclic meditation, a yoga technique where the practitioners perform slow conscious physical movements. It was under his tenure as VC that the S-VYASA Prashanthi Kutiram was established.
 "The association began in 1987 or so; that is how our relations started; he is a great devotee of Swami Vivekananda and liked our approach. He took to the practice of yoga from then on. Modi ji is just fantastic as a yoga student. Sukshma vyayama, asanas, pranayama and other yoga techniques to bring the aspects of relaxation are being practiced by Modiji even today," says HR Nagendra.
If Modi at 68 years is perceived as the most active PM despite age catching up with him, it is all because of the regular practice of yoga.
According to prof Nagendra, Modi's time management is unparalleled; his humility, memory are fantastic and says he has much to learn from him. He sees PM Modi as a role model.
Last Updated Jun 21, 2019, 2:06 PM IST