Karnataka Congress looks to Rahul Gandhi, Deve Gowda to avoid further damage
Congress MLA ST Somashekhar's recent comment saying Siddaramaiah is the real CM left chief minister Kumaraswamy fuming. The Congress resorted to damage control by saying that the views of only party president HD Deve Gowda and Rahul Gandhi matter.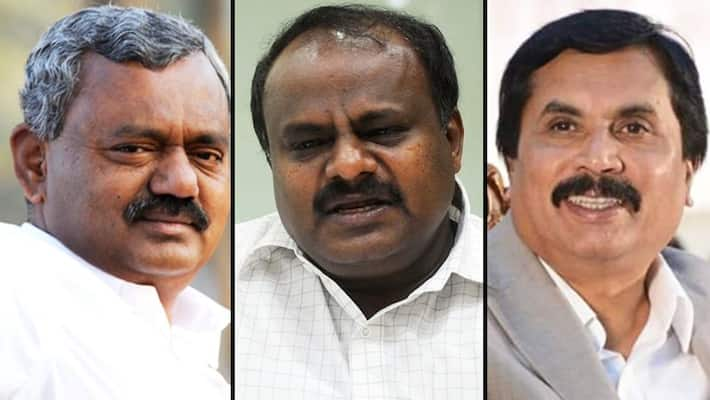 Bengaluru: A Congress MLA's comment in which he called Siddaramaiah the 'real CM' has put the party in a tight spot. Chief minister HD Kumaraswamy showed signs of discomfort and in order to contain the discontentment, the Congress has now resorted to damage control and has stated that only the views of party presidents HD Deve Gowda and Rahul Gandhi should be taken seriously as other opinions are irrelevant.
Bengaluru Development Authority Chairman ST Somashekar recently said that Siddaramaiah is the 'real CM.' He said that from last seven months, there has been no development or progress in the government.
In comparison, Somashekar also said that former chief minister Siddaramaiah toured the city every three months and took stock of developments and legislators like Byrathi Basavaraj, Krishna Byre Gowda used to accompany him to newly added wards to monitor road work, water connection among other facilities.
These words were enough to upset Kumaraswamy who threatened to resign. Following this discontentment, the Congress party quickly resorted to damage control.
Kengal Shreepada Renu, Congress Spokesperson said that the views of ST Somashekar and others should not be taken seriously as it does not reflect the views of party presidents of the JD(S) and the Congress
"Views and statements of JD(S) supremo HD Deve Gowda and Congress president Rahul Gandhi matter. It is they who have the final say on issues pertinent to the party. Opinions of others do not hold any relevance," said Shreepada Renu.
JD(S) leaders also echoed similar sentiments and said that the leaders close to Siddaramaiah will always show respect to him in any situation and that is why they issue such statements. JD(S) leaders also said that these feelings are similar among the JD(S) as they would always think HD Kumaraswamy is our leader come what may. "Instead of blowing such small issues out of proportion, we should work together to fight the BJP in Lok Sabha," said MZ Ali Joint Secretary, JD(S).
The BJP lashed out at the coalition by calling them 'strange bedfellows'.
"The leaders in Congress have not accepted HD Kumaraswamy's leadership to steer the coalition government. This is an indication that the Government is not safe," said S Prakash, BJP spokesperson.
However, remarks such as these have not been a one-off. Agriculture minister Shivashankar Reddy and KY Nanjegowda, Malur MLA made similar remarks a few months ago. The leaders hailed Siddaramaiah as the chief minister at any given point in time and said that they will only approach him to air their grievances.
Last Updated Jan 29, 2019, 1:10 PM IST