Bengaluru Territorial Army officer develops rainwater harvesting system in Samba
Thanks to a Bengalurean's effort, about 4000 to 5000 litres of water flows per hour on an average through the pipe from the rooftop into the drum, which percolates into the ground in Samba, Jammu and Kashmir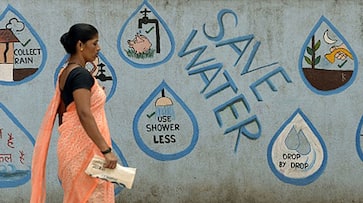 Bengaluru: Rising water crisis calls for immediate and innovative actions. A Bengaluru IT professional-turned-Territorial Army (TA) officer has developed a cost-effective rainwater harvesting system to conserve water. He has implemented the system at his battalion in Samba, the border district of Jammu and Kashmir. 
Commanding officer, Col Nandu Kumar, 129 Infantry Battalion (TA) Eco JAK LI, developed the rainwater harvesting system, which has been working well for the last couple of weeks in the battalion. 
He has observed that about 4000 to 5000 litres of water flows per hour on an average through the pipe from the rooftop into the drum, which percolates into the ground effectively, reports said.
According to Kumar, the materials required to set up a unit consists of a 200-litre plastic drum, pipe fittings each costing Rs 500 along with some sand and pebbles. It will cost about Rs 1,000 to build a unit.
To build the rainwater harvesting system, eight to nine foot deep pits that are four feet in diameter have to be dug first. Kumar reportedly said that an industrial plastic drum with holes all around including four to five holes of one to two centimetres at the bottom have to be made. Following this, the pipes are fitted. At the pipe bend, gully trap is introduced to collect dust and solid waste. 10 to 15 holes that are 2 feet deep are drilled all around the pit. Alternately pebbles and sand are sandwiched and placed around the drum from bottom to top and filled up to the brim. It is then covered with one foot top-soil, reports said.
According to Kumar, it takes one to two days to set up the system. There are 10 such rainwater harvesting systems in the battalion at Samba. He went ahead to say that it is not only cost effective, but most necessary to bring up the water table. In Bengaluru, the water table has been exploited and it needs to be replenished, he said.
Earlier reports on water crisis in Bengaluru had stated that the Karnataka government is on the verge of issuing a ban on the construction of new buildings in the city for the next five years.
With more apartment complexes and buildings coming up in the city, there is a lack of provision for clean water for drinking and domestic purposes. Builders and developers in the city hand over keys to residents without even taking care of this basic necessity.
Read full report here: Will Karnataka govt ban construction of new apartments in Bengaluru due to water shortage?
Last Updated Jul 12, 2019, 8:28 PM IST