Dubai Global Village to reopen on October 18; Check ticket price, new events and more
Dubai Global Village is an annual multicultural festival and shopping extravaganza in Dubai, United Arab Emirates. This vibrant event showcases the rich diversity of cultures from around the world, featuring pavilions representing different countries with unique displays, entertainment, and cuisine.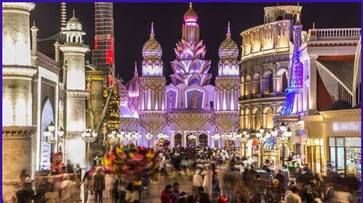 Dubai: The 28th season of the Global Village will reopen on Wednesday, October 18, 2023. During the summer season, Dubai's top attraction is closed temporarily. Since this is a week sooner than usual, visitors will have an extra week to shop and explore the sites, restaurants, and entertainment options. The six-month run of Global Village Dubai will end on April 28, 2024.
On entry tickets purchased through the organisers' app or website, there will be a 10% discount, according to the announcement. For season 28, the multicultural park offers two different ticket types: "Value," which is solely good from Sunday to Thursday (excluding holidays), to promote weekday visits, and "Any Day," which allows guests to use it on any day of the week, including weekends and holidays. The destination stated that entry ticket costs begin at Dh22.50. Any Day tickets are Dhs27 online and Dhs30 at the gate.
"Visitors can continue to enjoy spectacular shows and entertainment on the Global Village stages for free with their entry tickets," the park said.
Dubai Global Village is known for its lively atmosphere, cultural performances, and thrilling amusement rides. It typically runs during the winter months, attracting millions of visitors eager to immerse themselves in a global journey without leaving Dubai.
Global Village welcomes millions of tourists from all over the world each year who come to enjoy the park's lively environment, riveting performances, scrumptious cuisines, and distinctive shopping options.
The next season will feature 400 performers from around the world who will host more than 40,000 shows over the course of its six-month run. Numerous musicians who are well-known around the world will perform, in addition to a stunt show, fan favourites, and much more.
Global Village will debut Merry-Go-Round, a live circus ensemble that includes jugglers, fire breathers, and acrobats among its performers. The Toy Shop immerses viewers in a world where toys come to life at night.
From the start of the season to the end of the new year, crowd favourite AINJAA will drum throughout the park. With their acrobatics, the Philippine group and America's Got Talent alumnus Urban Crew will defy gravity.
 
Last Updated Oct 17, 2023, 5:04 PM IST