World Vegetarian Day 2023: Know history, significance, theme and more
World Vegetarian Day serves as an opportunity to raise awareness about the positive impact of plant-based choices on personal health, the well-being of the planet, and the welfare of animals. It inspires a collective commitment to sustainable and compassionate living.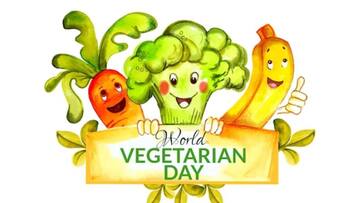 World Vegetarian Day, observed annually on October 1st, celebrates the countless benefits of a vegetarian lifestyle. This global movement encourages individuals to explore and embrace plant-based diets for reasons ranging from health and environmental sustainability to ethical considerations. On this day, people worldwide engage in activities, events, and discussions to promote the positive impacts of choosing a vegetarian or vegan way of life.  It inspires a collective commitment to sustainable and compassionate living.
History: 
The North American Vegetarian Society (NAVS) founded World Vegetarian Day in 1977 to highlight the many benefits of vegetarianism, particularly its contribution to the preservation of animal lives. The International Vegetarian Union formally endorsed this day in 1978. Since then, every October 1st, people from all around the world gather to commemorate the occasion. Over 180 nations around the world currently commemorate World Vegetarian Day. In other nations, such as Thailand, China, France, and Brazil, it has even acquired national recognition.
Significance: 
It raises awareness of the ethical, societal, health and humanitarian advantages of a vegetarian lifestyle. The month of October is designated as Vegetarian Awareness Month, and it begins on October 1 and finishes on November 1 with World Vegan Day. Some of the significances are: 
Health and Well-being:
Encourages individuals to consider the health benefits of adopting a vegetarian lifestyle, including reduced risk of chronic diseases, weight management, and improved overall well-being.
Environmental Sustainability:
Raises awareness about the environmental impact of meat consumption, promoting the idea that plant-based diets are more sustainable, requiring fewer resources and contributing to lower greenhouse gas emissions.
Animal Welfare:
Advocates for the ethical treatment of animals by emphasizing the compassionate choice of a vegetarian or vegan lifestyle, reducing the demand for animal products and promoting cruelty-free alternatives.
Cultural and Culinary Diversity:
Celebrates the rich variety of plant-based foods across different cultures, encouraging exploration of diverse vegetarian cuisines and demonstrating that meat-free meals can be flavorful, nutritious, and satisfying.
Global Community Building:
Provides a platform for individuals, communities, and organizations worldwide to come together, share experiences, and collectively promote the positive aspects of vegetarianism.
Educational Initiatives:
Promotes education and awareness about the benefits of plant-based diets, dispelling myths and misconceptions surrounding vegetarianism.
Personal Empowerment:
Inspires individuals to make conscious and informed choices about their dietary habits, empowering them to contribute positively to their health, the environment, and the well-being of animals.
Global Impact:
Recognizes the global impact of dietary choices and encourages a collective shift toward more sustainable and compassionate practices, contributing to a healthier planet for future generations.
World Vegetarian Day serves as a catalyst for conversations, initiatives, and actions that contribute to a more mindful and sustainable world, fostering a sense of responsibility towards personal health, the environment, and the welfare of animals.
 
Last Updated Oct 1, 2023, 7:00 AM IST