World Tourism Day 2023: Solo traveler's toolkit - A look at 10 safety and adventure hacks
By equipping yourself with a solo traveler's toolkit that includes safety measures and adventure hacks, you can embark on your journey with confidence.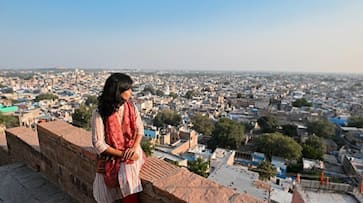 Traveling alone can be an exhilarating and life-changing experience. It provides an opportunity for self-discovery, personal growth, and the chance to explore the world at your own pace. However, solo travel also comes with unique challenges, especially when it comes to safety and adventure. To make the most of your solo journey while staying safe, it's essential to equip yourself with a solo traveler's toolkit filled with safety and adventure hacks. In this article, we'll explore some essential tools and strategies that every solo traveler should have in their arsenal.
1. Research and Planning:
Before embarking on your solo adventure, thorough research and planning are crucial. This includes:
Destination Research: Learn about the culture, customs, and laws of your chosen destination. Understanding the local environment will help you adapt and respect the local norms.

Accommodation: Book accommodations in advance. Read reviews from fellow travelers to ensure safety and comfort.

Itinerary: Create a rough itinerary but remain flexible. This allows you to have a general direction without feeling tied to a strict schedule.
2. Stay Connected:
Maintaining communication with loved ones back home is vital for your safety and peace of mind:
Local SIM Card: Purchase a local SIM card or an international roaming plan to have access to data and calls.

Share Itinerary: Share your itinerary and daily plans with a trusted friend or family member. Set up regular check-ins so they know you're safe.
3. Money Matters:
Managing your finances efficiently is essential for a smooth solo adventure:
ATM and Cash: Carry a mix of local currency and a backup card. Be cautious at ATMs, especially in unfamiliar areas.

Money Belt: Use a money belt or hidden pouch to keep your cash, cards, and important documents secure.
4. Safety Gear:
Invest in safety gear to ensure your well-being:
Travel Insurance: Purchase comprehensive travel insurance that covers medical emergencies, trip cancellations, and theft.

First Aid Kit: Pack a basic first aid kit with essentials like band-aids, pain relievers, and any necessary prescription medications.
5. Self-Defense and Awareness:
While solo travelers rarely encounter dangerous situations, it's wise to be prepared:
Self-Defense Training: Consider taking self-defense classes before your trip to boost your confidence.

Awareness: Stay vigilant and aware of your surroundings, especially in crowded or unfamiliar areas.
6. Technology:
Modern technology can enhance your safety and overall travel experience:
Smartphone Apps: Install useful travel apps for navigation, translation, and emergency assistance.

Portable Charger: Carry a portable charger to ensure your phone remains powered throughout the day.
7. Blend In:
To avoid standing out as a tourist, try to blend in with the locals:
Dress Appropriately: Research the local dress code and avoid clothing that screams "tourist."

Body Language: Observe how locals behave and try to mimic their body language and gestures.
8. Meet Fellow Travelers:
While solo travel offers solitude, it's also an excellent opportunity to meet new people:
Hostels and Shared Accommodations: Choose accommodations that encourage social interaction, such as hostels or guesthouses with common areas.

Group Tours and Activities: Join group tours and activities to meet fellow travelers with similar interests.
9. Trust Your Instincts:
Your gut feeling is a powerful tool for self-preservation:
Listen to Your Intuition: If a situation or person makes you uncomfortable, remove yourself from it.

Local Advice: Seek advice from locals or fellow travelers about safe and exciting places to explore.
10. Solo Travel Community:
Joining solo travel communities and forums can provide valuable insights and support:
Online Communities: Connect with other solo travelers online to share experiences, ask for advice, and find travel buddies.
Solo travel can be an incredibly rewarding experience filled with adventure and personal growth. By equipping yourself with a solo traveler's toolkit that includes safety measures and adventure hacks, you can embark on your journey with confidence. Remember to stay informed, stay connected, trust your instincts, and embrace the incredible world waiting to be explored. Happy travels!
Last Updated Sep 25, 2023, 11:24 AM IST