World Tourism Day 2023: How technology and AI is shaping the future of travel
From personalized AI travel assistants to sustainable transportation options and immersive virtual experiences, technology is making travel more accessible, efficient, and enjoyable.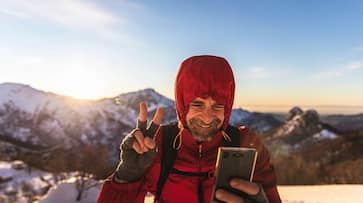 Travel has always been a blend of adventure and discovery, but as we step into the future, technology is poised to play an even more significant role in our journeys. From AI-powered travel planning to contactless experiences and sustainable transportation, the travel industry is undergoing a profound transformation. In this article, we delve into the exciting developments that are shaping the future of tourism.
AI-Powered Travel Planning: Your Personalized Travel Companion
Imagine having a travel companion who knows your preferences, anticipates your needs, and designs the perfect itinerary for you. That's the promise of AI-powered travel planning. Artificial Intelligence is revolutionizing the way we plan and experience travel.
Personalized Recommendations: AI algorithms analyze your past travel choices and preferences to recommend destinations, activities, and accommodations tailored to your taste.

Real-Time Updates: AI-powered apps provide real-time updates on weather conditions, flight delays, and traffic, helping you make on-the-fly adjustments to your plans.

Translation and Assistance: Language barriers become a thing of the past with AI-powered translation tools and chatbots that assist you 24/7.
Contactless Experiences: Safe and Seamless Travel
The COVID-19 pandemic accelerated the adoption of contactless technologies in travel, and these innovations are here to stay. They enhance both safety and convenience for travelers.
Contactless Check-In: Many hotels and airlines now offer contactless check-in and keyless entry via mobile apps, reducing physical touchpoints.

Digital Payments: Mobile wallets and contactless payment methods make transactions smoother and reduce the need for cash.

Augmented Reality (AR) Guides: AR apps provide interactive, contactless guides at tourist attractions, museums, and historical sites.
Sustainable Transportation: Navigating the Green Way
The future of travel is intrinsically linked with sustainability. Travelers are increasingly conscious of their environmental impact, and technology is helping to address these concerns.
Electric and Hybrid Vehicles: Electric and hybrid cars are becoming more accessible and prevalent, reducing carbon emissions during road trips.

Public Transportation Apps: Apps that integrate various modes of public transportation, like buses, trains, and bike-sharing, encourage travelers to use eco-friendly options.

Eco-Friendly Flight Planning: Airlines are using AI to optimize flight routes, reduce fuel consumption, and minimize their carbon footprint.
Virtual Reality (VR) and Augmented Reality (AR): A New Dimension of Travel
VR and AR are changing the way we experience travel, even when we can't physically be there.
Virtual Tours: Explore destinations virtually through immersive VR tours, allowing you to "visit" places before deciding to travel.

Augmented Travel Guides: AR apps enhance your real-world experience by overlaying information and points of interest onto your surroundings.
Blockchain for Secure and Hassle-Free Travel
Blockchain technology is revolutionizing travel in terms of security, privacy, and streamlined processes.
Secure Identification: Digital IDs on blockchain can securely store your identity information, streamlining airport security and immigration processes.

Smart Contracts: Travelers can use smart contracts for transparent and automated bookings, reducing the risk of overbooking or cancellations.

Loyalty Programs: Blockchain can make loyalty programs more accessible and transparent, allowing travelers to redeem rewards across various providers seamlessly.
The future of travel technology is bright and full of exciting possibilities. From personalized AI travel assistants to sustainable transportation options and immersive virtual experiences, technology is making travel more accessible, efficient, and enjoyable. As we embark on our journeys in the years to come, these advancements will undoubtedly redefine the way we explore our world. Travel isn't just about the destination; it's about the experience, and technology is here to enhance that experience in ways we've only begun to imagine.
Last Updated Sep 25, 2023, 11:29 AM IST