World Tourism Day 2023: Day, history, theme, significance
World Tourism Day, celebrated annually on September 27th, promotes tourism's global significance. In 2023, the theme is 'Tourism and Green Investment,' emphasizing sustainability. The day's importance lies in recognizing tourism's economic, cultural, and social impacts and addressing industry challenges. 'Tourism and Green Investment' calls for eco-friendly practices and responsible investments, ensuring a sustainable future for tourism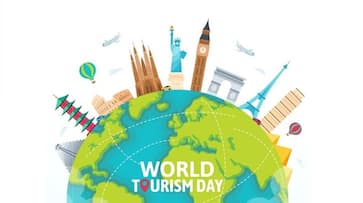 Every year on September 27th, the world comes together to celebrate World Tourism Day, a day dedicated to promoting the importance of tourism and its impact on global economies, cultures, and societies. This day also serves as an opportunity to address the challenges and opportunities that come with tourism. In 2023, the theme for World Tourism Day is "Tourism and Green Investment," highlighting the critical role tourism plays in sustainable development and the need for responsible and eco-friendly investments in the tourism sector.
History of World Tourism Day
World Tourism Day was first celebrated on September 27, 1980, by the United Nations World Tourism Organization (UNWTO). This date was chosen to commemorate the anniversary of the adoption of the UNWTO's Statutes in 1970, which is considered a milestone in global tourism. The primary purpose of this day is to raise awareness about the social, cultural, political, and economic value of tourism worldwide.
Over the years, World Tourism Day has become an essential platform for governments, businesses, and individuals to come together and discuss the challenges and opportunities in the tourism industry. Each year, a unique theme is chosen to address specific issues facing the sector. Themes have ranged from "Tourism and Water: Protecting Our Common Future" to "Tourism and Jobs: A Better Future for All," emphasizing the multifaceted nature of tourism's impact on society.
The Theme: "Tourism and Green Investment" 
The theme for World Tourism Day 2023, "Tourism and Green Investment," is both timely and crucial. It reflects the growing awareness of the environmental impact of tourism and the need for sustainable practices. As the tourism industry continues to expand, it brings with it a range of challenges, including increased carbon emissions, habitat destruction, and strain on natural resources. To address these issues, green investment in the tourism sector is essential.
Green investment refers to financial support and initiatives that prioritize sustainability and environmental responsibility in tourism. This can include investments in renewable energy for hotels, conservation projects, eco-friendly transportation options, and promoting responsible tourism practices among travelers. Such investments not only benefit the environment but also enhance the long-term viability of the tourism industry.
By choosing this theme, World Tourism Day 2023 encourages governments, businesses, and individuals to recognize the importance of sustainable tourism and the role of green investments in achieving it. It calls for collaboration between stakeholders to develop and implement eco-friendly practices and technologies to reduce the carbon footprint of tourism while preserving natural and cultural heritage.
Significance of World Tourism Day
World Tourism Day holds immense significance in today's globalized world. Tourism is a powerful driver of economic growth, contributing significantly to the GDP of many countries and creating millions of jobs. It also fosters cross-cultural understanding and promotes peace by bringing people from diverse backgrounds together.
Moreover, this day provides a platform to address critical issues facing the tourism industry. As tourism continues to grow, concerns about its environmental impact, cultural preservation, and equitable distribution of benefits have come to the forefront. World Tourism Day allows governments, businesses, and communities to engage in meaningful discussions about these challenges and work towards sustainable solutions.
In 2023, the focus on "Tourism and Green Investment" underscores the need for responsible and sustainable tourism practices. It reminds us that tourism can be a force for good, driving economic development while minimizing its ecological footprint. By promoting green investments, we can ensure that tourism remains a vibrant and resilient industry that benefits both present and future generations.
World Tourism Day is a celebration of the immense potential of tourism to enrich our lives and our planet. It reminds us of our collective responsibility to protect the environment and promote sustainable practices in the tourism sector. "Tourism and Green Investment" is not just a theme for one day but a call to action for a more sustainable and responsible future in tourism.
ALSO READ: Radhashtami 2023: When is Srimati Radharani's birthday? Know date, significance, vrat and more
Last Updated Sep 22, 2023, 7:00 AM IST