Pet parrot Rambo calls for help from cops, here's what happened next (Video)
The incident got captured in a security camera and it went viral on the internet; take a look at the video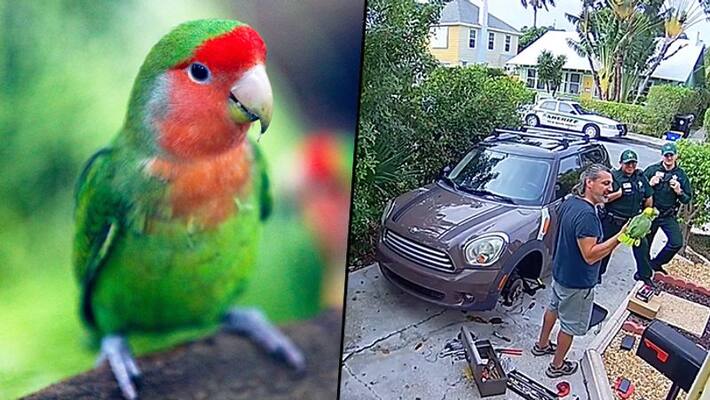 Local cops rushed to a Florida neighbourhood after a concerned neighbour heard the screams of a woman seeking help.
However, as the cops neared the Lake Worth Beach home, they found out that the one screaming for help was the resident couple's parrot and not a woman, as reported by Fox News.
The incident got captured in a security camera and went viral on the internet. The husband was fixing a car parked in front of the house as the police personnel approached him. There was a constant shriek for help audible at the background.
However, when the deputies questioned and interrogated the man, he simply went inside and revealed his 40-year-old parrot Rambo, who was still making the same kind of sound.
The man later explained that when he was a child, Rambo used to stay in a cage and back then he had trained the parrot to say: "Help, let me out."
Though the cage is gone and Rambo is not imprisoned anymore, the shrieks have stayed on.
Upon hearing the entire course of events, the police and the man had a big laugh.
The man went on to explain the screams to his neighbour who laughed and apologised for his mistake. This Florida resident can surely be said to have a tad bit embarrassing yet a fun-filled day, thanks to his pet parrot.
Last Updated Jan 7, 2020, 12:19 PM IST