Karnataka CM to skip Bidar-Gulbarga railway line inauguration by PM Modi?
Prime Minister Narendra Modi will inaugurate the Bidar-Gulbarga line, a 16-year-old project
The state government gave a land and shared half of the project cost Rs 1,500 crore to execute the project
The railway authorities reportedly did not consult the state government before planning the event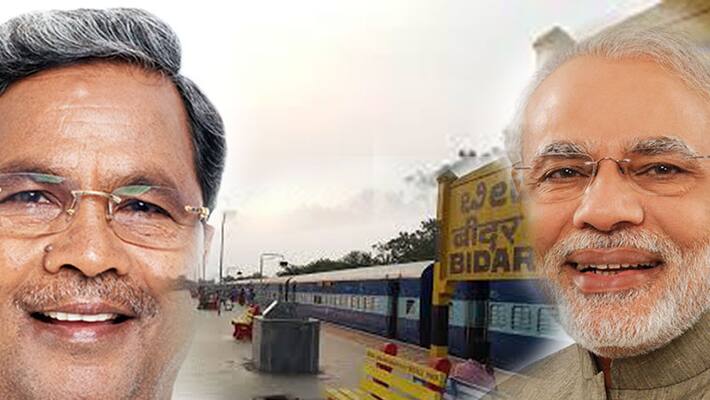 Sunday, October 29 will go down as a historical day for the people of Hyderabad-Karnataka region as, after 16 years, their long-awaited dream is being realised when Prime Minister Narendra Modi dedicates the Bidar-Gulbarga railway line.
While this is a big day for the Karnataka, Chief Minister Siddaramaiah is going to give a miss to the event. The alleged politics played over the whole event has reportedly upset the chief minister and other Congress leaders, who are staying away from the programme.
Also read: Did you know Narendra Modi is the first PM to visit Dharmasthala?
It is reported that the Railway department did not even bother to inform the State government, while it has equally contributed in executing the project.
It is reported that the State government has provided a free land and has also shared half cost in this project (like any other railway projects). But the railway officials reportedly did not discuss the event with the State government, and this has deeply upset the chief minister. When this was brought to their notice, they reportedly sent a last-minute invite to the chief minister. "This is just improper," Chief Minister Sdidaramaiah was quoted saying.
Also Read: High alert in Dakshina Kannada ahead of PM Modi's visit to Dharmasthala
However, the chief minister also said that he has prior commitments, hence he would not be participating in the event. But as per the protocol, the chief minister will receive PM Modi at HAL airport.
The state government has shared the project cost of Rs 1,500 crore with the Central government. In fact, the issue came to the fore when the invitation did not have veteran Congress leader from the region Mallikarjun Kharge. It was being said that the BJP reportedly wanted to take credit for the programme and hence wanted to avoid the Congress leaders. Besides, the timing of the event also raises a lot of question. For on the same day, Kharge who is the Chairman of Public Accounts Committee would be busy holding a meeting of the panel in Delhi. "BJP leaders deliberately avoided me. If they wanted to invite me, they would have consulted me to reschedule my programmes," reports The Hindu quoting Kharge.
Last Updated Mar 31, 2018, 7:00 PM IST