Here is how Siddaramaiah cornered Kharge before the Congress High Command ahead of Karnataka Assembly Election
If sources are to be believed, Karnatala CM Siddaramaiah reportedly used an evidence against senior Congress leader Mallikarjun Kharge of striking a deal with JD(S) supremo HD Deve Gowda.
This is supposed to have helped him move closer with the Congress High Command and at the same time gain the upper hand over Kharge ahead of Karnataka Elections 2018.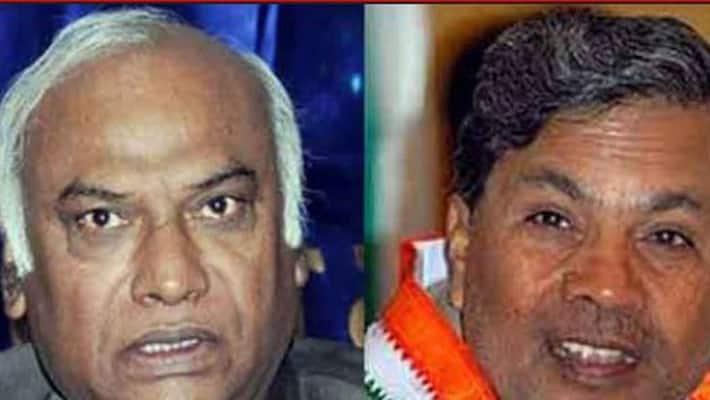 This move of Siddu helped in convincing the high command to relax restrictions in choosing candidates according to his choice. Kharge, who wanted to put pressure on State Congress to prove his mantle, failed to evoke a positive response. 
Kharge, who wanted to ensure all seven JDS rebels don't get tickets, and simultaneously fight for his trusted followers, Chalavadi Narayanswamy from Devanahallli and former CM Dharam Singh's son in law Chandra Singh from Bidar south, failed miserably in achieving this goal. 
Kharge was always against Ashok Kheny an Independent who won from Basavakalyana in 2013. Even when Siddaramaiah inducted Kheny into the party fold recently, Kharge had openly criticised this move. Getting Kheny into the party would mean no ticket for his trusted followers from the Bidar region. This upset their equation further.
For a leader who was a Congressman all his life is now only an opposition leader in Lok Sabha. Siddaramaiah getting tickets for his trusted followers' means the party under Rahul Gandhi's leadership is leaning towards the Ahinda leader with a deeper bond, much to the dismay of Kharge.
Migrant Siddu has the last laugh against old-time Congressman Kharge in candidate selection for Karnataka Elections 2018.
Last Updated Apr 16, 2018, 6:36 PM IST