Dayananda swami sex scandal: Srishaila mutt head expels tainted seer from Hunasamaranahalli Mutt
A sleazy video of seer Dayananda with a woman had gone viral causing embarrassment to 500-year-old Maddevanapura mutt
Srishaila seer has formed a nine-member panel who will decide on the future of the mutt
The family members of the accused seer too have been asked to vacate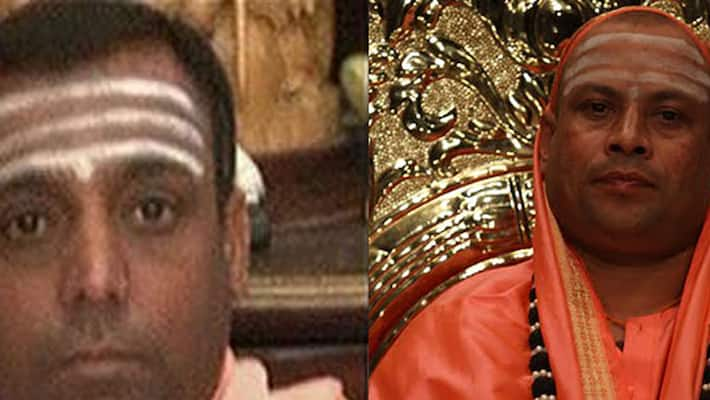 Maddevanapura mutt's tainted seer Dayananda who was caught in a sleazy video with a woman has been booted out of the mutt by Srishaila Mutt head Sri Channasiddarama Panditaradhya Mahaswami. Drawing curtains over the allegations that rocked the 500-year-old mutt in Hunsaramaranahalli, Bengaluru North in the last two days, the Srishaila seer said that from this day, Dayananda would not head the mutt. The Maddevanapura mutt is a branch of the Srishaila Peetha, one of the Pancha peethas of Veerashaiva community.
It may be recalled here that a sleazy video of Dayananda seer with a woman had gone viral causing huge embarrassment to the mutt and the community. Following the controversy, the tainted seer is absconding.
Also read: Kannada actress clarifies on sex scandal video with Dayananda Swami
After holding a closed-door meeting with the mutt authorities and other concerned, the seer told media persons here in Bengaluru that a nine-member panel will be formed to decide on the future of the mutt. Based on their recommendations, a new seer will be appointed to the mutt.
On allegations of the seer being the victim of honey trapping, the Srishaila seer said that those aspects would be looked into by the investigation agencies.
It is reported that Dayananda's family members who also stay in the mutt premises have been asked the vacate the mutt with immediate notice and they too have agreed in a written letter. They have been given a 15-day deadline to leave the mutt. The Srishaila seer further clarified that no body from the family has the right over the mutt property.
Meanwhile, he has appealed to a group of devotees to end their hunger strike. He also urged the devotees not to take the law into their hands.
Also read: Dayananda Swamy sex scandal: Is this the truth behind honey trapping case?
Before his media briefing, high-drama prevailed in the mutt premises as two factions of devotees nearly came to blows. While one group demanded that Dayananda is thrown out of the mutt, the other held that he was a victim of honey trapping. Some of the devotees were upset that they were not called by the seer for the meeting and they alleged that this way there was a conspiracy to protect the tainted seer.
Earlier, in the day, a local youth Harish released a video in which he alleged that the seer was indeed a victim of the honey trap. He named Praveen and Himachal - two youths from the village - of allegedly forcing him to blackmail the seer for ransom.
The video was purportedly released by a few devotees showing allegiance to the tainted seer.
Last Updated Mar 31, 2018, 7:03 PM IST