Pod Taxis to be reality in City by 2019
BBMP plans to introduce Pod Taxi for an easy, quick and pollution-free travel the City by 2019
In the first phase, 12 Pod Taxi stations in 70 km range from MG Road Trinity Station to Whitefield, covering Agara, Dommaluru, BEML, HAL Air Port, Marath Halli will be set up
In the 70 km range, a total of 2,100 Pod Taxis will ply, with 30 designated taxis for every km. Every Pod Taxi can carry 6 members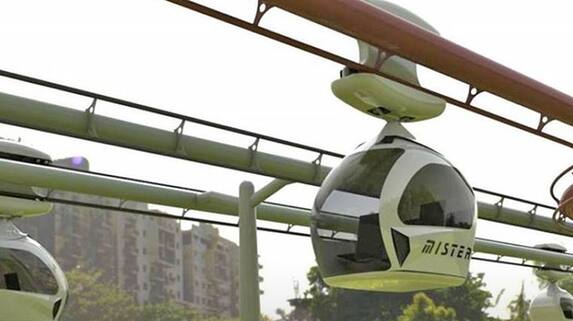 After the Namma Metro facilitated easy, quick and pollution-free travel, the BBMP will further make commuting all the more comfortable by introducing Pod Taxi service by 2019.  The Pod Taxi will act like feeder to Metro stations, reports Kannada Prabha.
The Pod Cars will move along the poles installed on the roads. In the first phase, it has been planned to set up 12 Pod Taxis stations in 70 km range from MG Road Trinity Station to Whitefield, covering Agara, Dommaluru, BEML, HAL Air Port, Marath Halli and other important spots. From Metro stations, public can travel up to their destinations. In the 70 km range, a total of 2,100 Pod Taxis will ply, with 30 designated taxis for every km. Every Pod Taxi can carry six members. After getting into the Pod Taxi, commuters have to press the button indicating the stop and the taxi will stop and open the doors. The fare for Pod Taxi is not yet fixed.
BBMP Commissioner Manjunath Prasad informed Kannada Prabha that the cost of setting up of Pod Taxi is Rs 50 crore per km. The BBMP had already floated a global tender for setting up the Pod Taxi and 3 foreign companies have responded and demonstrated their capabilities. Ultra Firewood Green Transport Pvt Ltd from Singapore, JPODS INC USA and Skytron Asia from the US have responded. These companies have submitted their project reports and the BBMP is getting them evaluated at Indian Institute of Science. It is reported that IISc has approved the project.
The BBMP has invited tenders for implementing the project under the design-build-operate-transfer (DBOT). Under the DBOT, the BBMP need not invest any money into the project. The company that gets the tender must design, install, invest and maintain for 30 years and then hand over to the BBMP.
The Pod Taxis, also called Personal Rapid Transit (PRT) is the best alternative for congested places where road widening or Metro is not possible. They do not require elaborate infrastructure like Metro too.
Last Updated Mar 31, 2018, 6:38 PM IST