Why locals are urging usage of e-autos in UNESCO heritage site of Hampi
Hampi's heritage sites face damage from heavy vehicles, prompting calls for eco-friendly autos to protect monuments and create jobs. Battery-powered vehicles are being introduced, with support to allow LPG and electric autos, benefiting tourism, employment, and conservation efforts.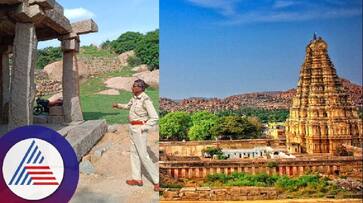 The world famous heritage site, Hampi is facing a huge problem due to the movement of heavy vehicles. The vehicles are damaging its ancient monuments. Therefore, people have urged the government to provide alternatives to heavy vehicles, and they have voiced their opinions to run e-autos for the benefit of the environment as well as employment opportunities.
Monuments in Hampi, like the Hare Shankara Dwara and the entrance to Sri Krishna Temple, are getting harmed by tourist buses and big vehicles. Young locals want eco-friendly autos to be used instead to protect these sites and create work opportunities.

Lambani embroidery exhibition in Hampi breaks Guinness World Record
Back in 2002, UNESCO stepped in when the Hare Shankara entrance gate at Talwar Ghat was damaged. They told the Central Archaeology Department to protect these important monuments. But despite efforts like using iron rods and having guards, vehicles near these heritage spots keep causing problems.
To tackle these issues and safeguard the monuments, the Hampi Development Authority introduced battery-powered vehicles between Gejjala Mandapam and the Vijaya Vitthala Temple. This way, they're trying to stop monument damage and offer eco-friendly travel options for tourists.
KM Santhosh, the leader of the CITU Amalgamated Auto Drivers Association in Hospet, said, "LPG and electrical autos should be allowed to run from Gejjala Mandapam to Vijaya Vitthala Temple in Hampi. This will also benefit the tourists. Besides, auto drivers will also get employment from tourism."

Bengaluru's iconic double-decker buses to make a comeback by year-end?
There's also a push to let LPG and electric autos run in Hampi from Gejjala Mandapam to the Vijaya Vitthala Temple. Supported by the RTO office, this idea aims to help tourists, create jobs for local youth, protect the environment, and boost tourism. All while keeping the beloved Hampi monuments safe from damage caused by heavy vehicles.
Two residents of Kamalapur, Chandru and Naveen stated, "Heavy vehicles are causing problems in Hampi. Therefore, if environment-friendly autos are allowed to run, it will be beneficial for the youth like us who are unemployed without work. Driving autos is prohibited near the Vijaya Vitthala temple memorial. Instead, if environment-friendly autos are allowed to run, employment will also be generated from tourism."
Last Updated Sep 4, 2023, 7:12 PM IST