Why environmentalists oppose Muttaiah Muralitharan's factory at Dharwad
Former Sri Lankan cricketer Muttaiah Muralitharan plans to establish a soft drink enterprise in Dharwad, Karnataka, facing environmental backlash due to its high water demand in an area prone to shortages. The government approved the venture, emphasizing job creation. District minister Santosh Lad acknowledges concerns but seeks more information before deciding.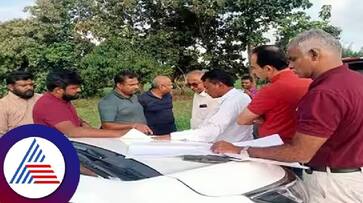 Former Sri Lankan cricketer Muttaiah Muralitharan recently bought land in Dharwad, Karnataka. He had planned to open his soft drink enterprise in the Beluru Industrial area. However, he has faced a backlash from the environmentalists of Dharwad. 
Muralitharan's investment of Rs 900 crore in this venture has earned them the government's nod for land allocation. However, the venture's requirement of 20 lakh litres of water daily has raised concerns. The area of Hubli and Dharwad has previously faced drinking water shortages, causing delays in supply. The large water demand from the company might extend the problem for the residents of the twin cities. Renowned environmentalist and veteran actor Suresh Heblikar stated he wants to discuss the matter with the Industrial minister.

Railway passengers to get trains to Pandharpur from Hubballi: Prahlad Joshi
The former cricketer is all set to set up an aluminium can manufacturing and beverage filling business under the name Ms Ceylon Beverage Can Pvt. The state government has also permitted to set up the unit at a cost if 446 crores, at an area of 26 acres in the FMCG cluster of Dharwad. 
The major opposition is due to the huge amount of water needed for the factory, which is around 2 lakh litres per day. The twin cities often face water scarcity, and the citizens are getting a water supply once a week. Some citizens argue that this company will provide job opportunities to over 500 people.
However, some others argue that providing job opportunities for 500 people and creating water scarcity for the rest for the rest of the population in the cities, seems less relevant.

Hubballi-Dharwad may get Light Rail Transit service
What does Santosh Lad say?
Dharwad's district in-charge minister, Santosh Lad, has responded to the matter. Minister highlighted the potential employment opportunities such factories bring into the city. However, he stated that he does not have much information regarding the opposition to the factory. The minister said he will look into the matter.
Muralitharan intends to invest in the company in three phases, promising employment opportunities in the region. While the environmentalist's concern is the major water scarcity among twin cities, which can recede the water supply in the cities.
Last Updated Aug 17, 2023, 9:00 PM IST