Namma Metro Yellow line update: MP Tejasvi Surya visits Kolkata factory to ensure timely delivery of coaches
Bengaluru South MP Tejasvi Surya actively oversees the Metro Yellow Line project. He raised concerns about coach availability and train control software, potentially affecting the project's early 2024 deadline. Surya engaged with stakeholders, including CRCC and Titagarh Rail Systems, to address these issues promptly. Customs and visa-related problems were also discussed, ensuring project progress remains on track.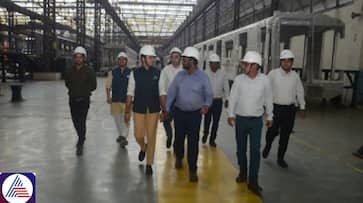 Bengaluru South MP Tejasvi Surya has been actively monitoring the progress of the Metro Yellow Line project, with a keen eye on potential obstacles. In his recent inspection, he highlighted two critical issues that could impact the project's commissioning by early 2024: the availability of coaches and the train control management software.
MP Surya expressed doubts about the February 2024 deadline given by BMRCL officials. In response, he engaged in a video conference with CRCC, Titagarh Rail Systems, and BMRCL officials to address these concerns promptly. During this discussion, CRCC committed to supplying the necessary bogies by January. Additionally, a BMRCL team, led by Mr. Dhoke, a high-ranking official, travelled to Beijing for further discussions, resulting in a successful outcome.

Bengaluru: MP Tejasvi Surya says to conduct Yellow Line metro trial test in November
MP Surya visited the Titagarh Rail Systems factory in Kolkata last week and personally inspected the work related to the coaches and brought up customs and visa-related issues with Union Urban Development Minister Mr Hardeep Singh Puri. The Minister has assured that the necessary steps will be taken to resolve these matters, ensuring that the Titagarh team can deliver the coaches on time.

Bengaluru 'Yellow line' metro should start by Feb 2024: MP Tejasvi Surya
The remaining challenge pertains to the Train Control and Management System (TCMS) software, initially scheduled for June 2024. After extensive conversations with relevant authorities, it has become evident that this essential software will be available as early as January 2024.
With these recent developments and Mr. Surya's proactive efforts, it appears that the Metro Yellow Line project will stay on track to meet its schedule.
Last Updated Oct 31, 2023, 5:05 PM IST