Karnataka: Talaguppa-Hubli railway route demarcation, check passing districts
Survey work has commenced for the Talaguppa-Hubli railway project, a much-anticipated development for Uttara Kannada, Shimoga, and Dharwad districts. However, the marking of railway boundaries has raised concerns among farmers about potential land loss, prompting calls for reassurance and appropriate compensation.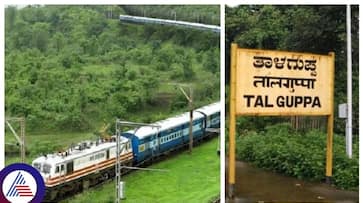 The eagerly anticipated Talaguppa-Hubli railway project is gaining momentum, with the survey work now underway. The railway's boundaries have been marked, bringing hope to the region's residents while raising concerns among farmers about potential land loss.
The Central Railway Department has given its approval for the construction of the Talaguppa (Sagar)-Siddapur-Shirasi-Mundagoda-Tadasa to Hubli railway line. Survey work has commenced, with the project extending into Mundagoda taluk.

Bengaluru: Yeshwantpur railway station undergoes eco-friendly redevelopment
Several areas in Mundagoda taluk, including Malagi, Kyagadikoppa, Kallahakkala, Dharma Colony, Malalagaon, and Gotagodikoppa, have seen the railway's boundaries delineated and marked with stones. This railway route will connect three districts: Uttara Kannada, Shimoga, and Dharwad.
Residents of this area currently rely on buses and private vehicles for long-distance travel, as train services are inaccessible without a journey to Hubli or Haveri. The prospect of train connectivity hints at the fulfilment of a long-cherished dream for many.
While the railway project has been a longstanding demand in the region, it encountered delays due to opposition from environmentalists. However, thanks to the efforts of the previous Legislative Assembly Speaker, Vishweshwar Hegade Kageri, who backed the project, the central government approved funding and initiated survey work.
The survey has revealed that the railway line will pass through numerous plantations and fields, causing anxiety among farmers who fear losing their land. Some landowners were taken aback when the boundary stones were placed without prior consultation. As the discussion intensifies regarding these boundary markers, farmers are concerned about the potential consequences. Responsible authorities are urged to address the fears of landowners and provide assurances about appropriate compensation.

Southern Railway's Vande Bharat trains achieve highest occupancy rates
The Uttara Kannada district, known for its geographical diversity, offers significant tourism potential. This railway, connecting the hilly terrain to the plains, stands to benefit entrepreneurs, traders, and agriculturalists involved in groundnut, coconut, mango, maize, ginger, and rice cultivation, among other activities. Furthermore, it is expected to create employment opportunities for the local youth. BJP District Farmer Morcha President, Mahesh Hosakoppa, has called on the central and state governments to prioritize this project and swiftly deliver its benefits.
While the railway project promises to greatly enhance the quality of life in the Taluk, farmers are apprehensive about the boundaries marked on their plantations and fields. These farmers, too, stand to benefit from the project. Chetan Naik, President of the Taluk Okkaluthana Houtuvali Sales Co-operative Society, stresses the need to implement the project in a way that avoids causing problems or losses for the local farmers.
Last Updated Oct 13, 2023, 1:39 PM IST