Karnataka: Private bus soar ticket prices amidst Ganesh Chaturthi; Transport dept issues warning
Private bus companies in Karnataka have significantly increased ticket prices for the upcoming Ganesha festival weekend, with fares nearly doubling for return trips to Bengaluru. The state's transport department has warned bus companies against price manipulation, and complaints about inflated fares have been filed.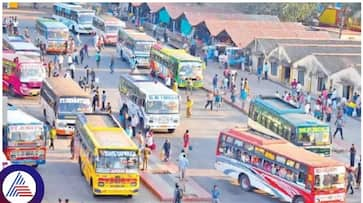 Private bus companies in Karnataka have raised ticket prices significantly for the upcoming Ganesha festival, which falls on a Tuesday. Many people are booking buses for the weekend and taking Monday off, as the festival is commonly celebrated on either Monday or Tuesday, leading to increased demand for bus travel.
Fares for buses travelling outside Bengaluru during the weekend have surged, and return fares to Bengaluru after the festival have nearly doubled. For instance, the usual ticket fare from Bengaluru to Hubballi ranged from Rs. 700 to Rs. 1,000, but it has now increased from Rs. 1,500 to Rs. 2,500.

Karnataka's festive spirit: KSRTC to add 1,200 buses for Ganesh Chaturthi; check details
Similarly, the fare from Bengaluru to Mangaluru, which was Rs. 700 to Rs. 1,400 on regular days, has risen to Rs. 1,400 to Rs. 2,000. Due to these higher fares, all seats on KSRTC buses are fully booked, and special buses are also in high demand during the festival.

Ganesh Chaturthi 2023: SWR Railway announces special trains for Karnataka
Case against Pvt. bus owners who try to meddle with ticket fares during festival
The Karnataka transport department has issued a stern warning to private bus companies that have hiked ticket prices during the Ganesha festival. State Transport Department Commissioner Yogeesh has cautioned that bus company owners could face legal action if they attempt to inflate prices during the festival period.
Complaints about the increased ticket fares during the festival and weekend holidays have been filed with the Transport Department. Former Transport Minister Sriramulu had stated that the route permit of private buses would be withdrawn if they manipulated ticket prices, during his tenure as the Transport Minister.
Last Updated Sep 14, 2023, 4:32 PM IST