Karnataka: Panel recommends declaring 195 taluks as drought-prone due to rain shortage
Karnataka's committee advises declaring 195 administrative divisions (taluks) as drought-prone due to insufficient rainfall. The criteria include rainfall levels, crop conditions, and water scarcity. Further surveys and assistance requests are planned, including relief funds, fodder seeds, and increased employment days under the Employment Guarantee Scheme.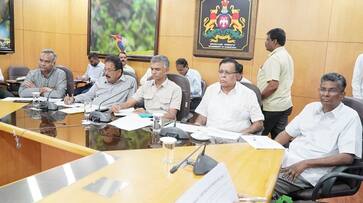 A committee in Karnataka has advised the government to declare 195 administrative divisions called taluks as drought-prone because they haven't received enough rainfall. This decision came after a meeting led by Revenue Minister Krishna Byre Gowda, where they looked at detailed information about drought conditions in different taluks.
This advice includes 161 taluks that meet the central government's rules for being considered drought-prone, along with 34 more in "moderate" drought even though they didn't get much rainfall. Chief Minister Siddaramaiah is expected to announce the list of affected taluks based on this advice.

Worst situation since 123 years: Karnataka faces record rain deficit in August
To decide if an area is drought-prone, the criteria are to look at things like how much rain it got, the condition of crops, and if there's a lack of water. In some cases, even if 40 taluks didn't get enough rain, satellite pictures showed that the land still looked green and moist, so they didn't meet the central government's criteria for drought. However, they will check again in the next 15 days, and if they find drought conditions, they will send an additional list to the central government for help.
Officials have told the government to conduct this follow-up survey and prepare a detailed request for help. In areas declared drought-prone, they are taking various actions like creating teams to manage drought, providing water using tankers and wells, and using money from the State Disaster Response Fund (SDRF) to help.
The government has already allocated Rs 20 crores to give farmers free seeds for livestock fodder. They have provided guidelines on how to store fodder when harvesting crops like paddy and maize. They plan to increase the number of days people can work under the Employment Guarantee Scheme from 100 to 150 days after they officially declare a drought.
The district administration already has Rs 492 crore to help with drought relief, and there's another Rs 400 crore available in the revenue department. The Chief Minister said they will give whatever money is needed, including Rs 7 crores for urgent projects with Zilla Panchayat Chief Executive Officers.

Drying Cauvery river raises concerns in Kodagu: Farmers question govt's decision of releasing water to TN
The Chief Minister has written to the central government asking to change the rules for declaring drought-affected areas, but they have yet to respond. CM plans to meet Prime Minister Narendra Modi personally to discuss this issue, said the Minister.
The next steps include talking about this in a Cabinet meeting, deciding how many taluks are affected by drought, and sending the list to the central government. A team of experts from the central government will visit the state to check how bad the drought is, and then the final list of affected taluks will be published. This will lead to farmers getting money for their lost crops under the Central Government's National Disaster Response Fund (NDRF).
Last Updated Sep 14, 2023, 4:00 PM IST