Karnataka govt clarifies carpooling ban status in Bengaluru; here's all you need to know
Karnataka Transport Minister Ramalinga Reddy denies a ban on carpooling in Bengaluru, clarifying that no official notice or government order has been issued. An upcoming meeting on October 3 will address carpooling-related matters and commercial applications of carpooling apps.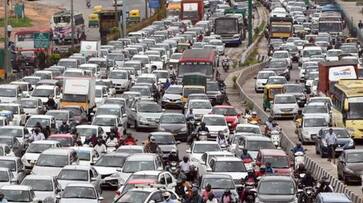 Amidst widespread concerns about the Karnataka government's alleged ban on carpooling in Bengaluru, Transport Minister Ramalinga Reddy issued a clarification, firmly denying any such ban. Reddy stated that there has been no official notice or government order prohibiting carpooling, and no directives have been issued to that effect. He highlighted that an important meeting is scheduled for October 3 to discuss carpooling-related matters.
At present, carpooling applications operating in Bengaluru lack official licenses from the government, raising questions about their legality. Minister Reddy specified that certain conditions would apply to carpooling.

Carpooling is illegal: Karnataka Transport Dept fines Rs 10000 for violations in Bengaluru
Carpooling serves as an effective means to reduce traffic congestion in Bengaluru and is encouraged among friends, neighbours, relatives, and colleagues. However, utilizing carpooling for commercial purposes, particularly through app-based platforms, requires government authorization. Minister Reddy stressed that developing carpooling apps for commercial use without government approval is not permitted.
The upcoming meeting on October 3 will delve into various aspects of carpooling, including permissions, commercial applications, and the difference between whiteboard and yellowboard vehicles. Yellow board number plates are mandatory for all commercial vehicle operations, except private use. The meeting will address other transportation-related matters, including delivery services conducted by motorcycles, such as food delivery and online shopping.

BJP MP Tejasvi Surya urges govt to reconsider ban on carpooling in Bengaluru

Several businesses in Bengaluru have been found to violate motor vehicle regulations. For instance, as per the existing rules, whiteboard two-wheelers are not allowed to engage in food delivery or shopping deliveries, yet such practices remain common in the city. Furthermore, bike taxis have been observed using whiteboard number plates, despite their incompatibility with these services.
The rules permit carpooling among friends and relatives via platforms like WhatsApp groups. However, any commercial use of carpooling apps must comply with government regulations.
Last Updated Oct 3, 2023, 12:31 PM IST