Karnataka: BJP's internal strife evident as BL Santhosh takes charge
The Karnataka Congress has launched a scathing attack on the BJP, citing a leadership vacuum within the party. The Congress claims that the BJP currently lacks a president and legislative party leader capable of convening a meeting of BJP MLAs.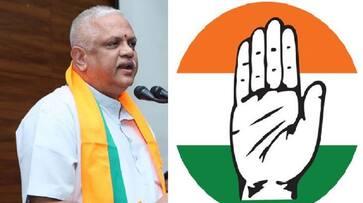 The Congress spokesperson remarked, "The BJP party does not have a president to call a meeting, there is no legislative party leader to call a meeting of BJP MLAs. BL Santhosh, who is not qualified to be a representative of the people and lacks the ability to garner support, has stepped in to take charge."
The BJP's internal discord became glaringly apparent when a group of BJP MLAs recently gathered at the residence of former Chief Minister BS Yediyurappa, expressing their discontent and demanding new leadership. This move left Santhosh, a key BJP figure, no choice but to convene a meeting to assert his leadership.
The Congress, via its official X account, took a dig at the situation, stating, "After the legislators attended Yediyurappa's meeting, BL Santhosh hastily organized a meeting. This development has raised questions about the BJP's internal unity, suggesting that this meeting might have been intended to antagonize Yediyurappa."
BJP's BL Santosh warns against using the term 'Bombay Boys'
BJP National Organizing General Secretary BL Santosh has cautioned party leaders against referring to MLAs who migrated from the Congress as 'Bombay Boys' during the formation of the previous government in Karnataka. This warning comes amid speculation that some of these Congress defectors may return to their original party.
During a preparatory meeting for the voter spirit campaign at the party office, Santosh emphasized the need to refrain from using derogatory terms like 'Bombay Boys'. He acknowledged that some had used this term to describe these legislators, but stressed that it was hurtful to them. While allowing the Leader of the Opposition to express their views, he urged party members not to adopt such terminology.
Santosh also addressed the issue of MLAs switching parties, asserting that it was inappropriate to suggest that they should be allowed to leave if they wished to return. He emphasized the importance of their role in helping the BJP form the government, highlighting their significance within the party.
Regarding the delay in appointing the state president and leader of the opposition, Santosh acknowledged the need for prompt selections but emphasized that media pressure should not influence the decision-making process. He noted that despite the absence of a formal Leader of the Opposition, all MLAs were working collaboratively in a unified manner.
Last Updated Sep 1, 2023, 5:59 PM IST