How a Swiggy delivery boy helped a Bengalurean who ran out of fuel late night
A Swiggy delivery person's random act of kindness in Bengaluru goes viral. Shravan Tickoo, stranded due to a bike malfunction, received help when the delivery person towed his bike to a petrol station. Tickoo's social media post praising the kind gesture garnered widespread appreciation and highlighted the enduring spirit of kindness in the city.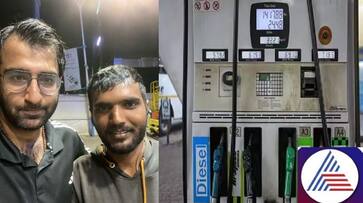 In a heartwarming incident, a Swiggy delivery person came to the aid of a stranded individual on a midnight road in Bengaluru. Shravan Tickoo, the person to experienced this kindness, took to social media to express his gratitude.
Tickoo found himself in a precarious situation after his bike ran out of fuel while he was returning home from a friend's place in Koramangala to Sarjapura Road. The unexpected halt was due to a malfunctioning fuel indicator on his bike. With no other option, Tickoo decided to drag his bike to the nearest petrol pump, located approximately 2.5 kilometres away. It was during this challenging endeavour that the Swiggy delivery person made a fortuitous appearance.

Bengaluru's ambitious Skydeck project aims to soar as India's tallest viewing tower (WATCH)
The delivery person approached Tickoo and inquired about the situation, asking, "Bhaiya kya hua hai?" (Brother, what happened?). The unexpected act of kindness left Tickoo pleasantly surprised. Tickoo shared his encounter on social media, and the post quickly gained attention, amassing nearly 12,000 views and over 130 likes. It was met with an outpouring of positive comments, with one individual noting the beauty of people who willingly go the extra mile without apparent reason.
The heartwarming incident sparked numerous positive comments from social media users, celebrating the extraordinary kindness displayed by the Swiggy delivery person. One user remarked, "The dedication of individuals like this, who consistently extend a helping hand without any obvious incentive, is what makes the world a more beautiful place."

Bengaluru: Fire at Mudpipe pub in Koramangala, firefighters battle blaze
Another user expressed their admiration, saying, "This is undeniably remarkable conduct. Offering assistance that goes above and beyond is a genuine act of kindness, and we commend him for it! This should serve as a lesson to others, inspiring them to provide assistance when the need arises. What truly stands out in his actions is his statement."
In addition to these reactions, there were other positive comments lauding the Swiggy delivery person for his selfless act of kindness. One such comment reads, "The world needs more individuals like him who make an extraordinary effort to assist others. His actions exemplify the true essence of goodwill and compassion."

Bengaluru man attacked by auto driver at night; Sparks online response
Tickoo's post also revealed his intention to reciprocate the kindness he experienced. He pledged to tip Swiggy delivery partners for their service, acknowledging that a small sum of 5 or 10 rupees might hold great significance for these delivery professionals. The heartwarming story did not end there. The Swiggy delivery person extended a helping hand once again by towing Tickoo's bike to another petrol station, located three km away. Despite Tickoo's attempt to offer a ₹500 reward, the delivery person refused. 
This touching incident serves as a reminder that the spirit of kindness is alive and well in the hearts of Bengaluru residents.
Last Updated Oct 23, 2023, 5:27 PM IST