Deepavali in Bengaluru marked by over 25 firecracker incident cases
During Diwali in Bengaluru, an alarming surge in firecracker incidents was reported, totaling over 25 cases. Most occurred at Narayana Nethralaya, with severe injuries to 12 individuals. Minto Hospital accounted for 4 cases. Despite 'green' firecracker directives, non-compliance prevailed, exceeding time restrictions. The absence of government-verified 'green' fireworks led to widespread use of available firecrackers.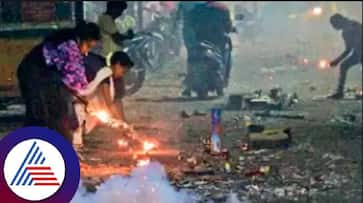 Bengaluru witnessed an alarming surge in firecracker-related incidents during the Diwali festival, with over 25 cases recorded in a single day on the first day of Diwali celebrations. 
The majority of these incidents, totalling 22 cases, were reported at Narayana Nethralaya, while Minto Hospital accounted for the remaining 4 cases. Among the cases at Narayana Nethralaya, 12 individuals sustained severe injuries, including four children, all of whom are receiving necessary medical treatment. Rohit Shetty, the head of Narayana Nethralaya, provided details regarding these unfortunate incidents.

Fire burns down furniture showroom in Bengaluru on Diwali night
At Minto Eye Hospital, two of the admitted cases are classified as severe injuries, while the other two suffered minor harm. Further information regarding these cases is expected to be shared by the doctors at Minto Hospital.
Despite directives emphasizing the use of 'green' firecrackers during Diwali, the city observed a significant disregard for this regulation as people detonated various types of fireworks, blatantly flouting the prescribed guidelines.

Tragedy strikes Delhi: 21-year-old dies in explosion while making firecrackers at home
Traditionally, fireworks are set off on Diwali Amavasya and Balipadyami, observed on Monday and Tuesday respectively. Citizens obtained firecrackers from shops authorized by the BBMP, yet the festivities extended beyond the designated time frame specified by the city police commissioner, who had mandated a strict 2-hour window for fireworks from 8 to 10 pm each day. However, celebrations commenced early on Sunday and continued late into the night, disregarding the outlined timeframe.
The demand for 'green' fireworks surged following government directives. However, despite public interest, authentic green firecrackers bearing the NEERI logo and QR code, as per governmental instructions, were notably absent from the market. Consequently, celebrants resorted to igniting whichever firecrackers were available in the market.
Last Updated Nov 13, 2023, 9:49 AM IST