CWRC orders Karnataka to release 5000 cusecs of water to TN for second time
Karnataka has been directed by the Cauvery Water Regulatory Committee (CWRC) to release 5,000 cusecs of water to Tamil Nadu daily for 15 days, despite facing a severe drought. This decision has sparked protests in Karnataka due to concerns about dwindling water levels in the Krishnaraja Sagar reservoir, affecting local farmers. Tamil Nadu has insisted on receiving its allocated water, increasing the water-sharing dispute. The Supreme Court is scheduled to address this issue on September 21.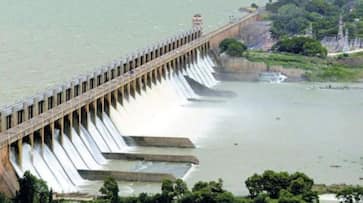 Despite Karnataka facing a severe drought due to insufficient rain, the Cauvery Water Control Committee (CWRC) has ordered the state to release 5,000 cusecs of water to Tamil Nadu every day for the next 15 days for the second time. This decision was made during a virtual meeting attended by officials from both Karnataka and Tamil Nadu. The directive has sparked concerns about the already dwindling water levels in the Krishnaraja Sagar (KRS) reservoir, a critical water source for Karnataka.
Karnataka's compliance with this order has generated controversy, especially in regions like Mandya and Chamarajanagar, where protests against supplying Cauvery water to Tamil Nadu have erupted. The state's farmers are already grappling with water scarcity, and this new directive exacerbates their challenges.

SC adjourns Cauvery water hearing, protests erupt with farmers hurling on roads
Conversely, Tamil Nadu has pressed for more water, asserting that Karnataka should release the specified 8 tmc of water for July and August, along with the 36.76 TMC of water for September, as previously instructed by the CWRC.
Karnataka has submitted an affidavit to the Supreme Court, expressing its difficulties in providing water beyond September 12. Nevertheless, the state is obligated to adhere to the CWRC's directives. The Supreme Court is slated to hear the Cauvery water dispute on September 21, with the Cauvery Water Management Authority (CWMA) likely to convene a meeting soon to address this situation.
Last Updated Sep 13, 2023, 3:08 PM IST